Pasta with Wild Leek Pesto
Début de l'été 2009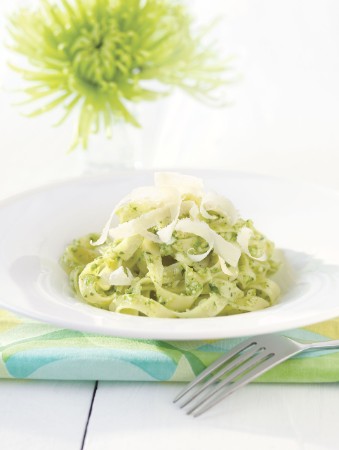 Pasta with Wild Leek Pesto
Début de l'été 2009
BY: Lucy Waverman
To keep this dish light and flavourful use fresh pasta or, if unavailable, use dried pasta made with egg. Wild leeks (also called ramps) are superb—a cross between garlic and leeks, and there is no real substitute. However, you could use 1 bunch green onions and 1 tbsp (15 mL) chopped garlic for a recipe that's slightly different but good nonetheless. If you don't like strong tastes I would suggest you blanch the leeks for 1 minute, draining well, before continuing with the recipe. If you like spicy flavours, you can also add a pinch of chili flakes.
1⁄4 cup (50 mL) whole skinned almonds
1 cup (250 mL) chopped wild leeks
1 cup (250 mL) baby spinach
1⁄4 cup (50 mL) olive oil
1⁄4 cup (50 mL) grated Parmesan cheese
Salt and freshly ground pepper
8 oz (250 g) tagliatelle

Garnish
1⁄4 cup (50 mL) grated Parmesan cheese
1 tbsp (15 mL) extra virgin olive oil
1. Place almonds in food processor and grind until nuts are roughly chopped. Add leeks, spinach and olive oil and process until still slightly chunky. Stir in Parmesan cheese. Season with salt and pepper to taste.

2. Bring a large pot of water to boil. Add tagliatelle and cook for 3 minutes or until just cooked. Drain, saving 1⁄2 cup (125 mL) pasta water.

3. Toss pasta with pesto, adding a little pasta cooking water to thin the sauce slightly. Toss with remaining cheese and olive oil.
Serves 4 as first course, 2 as main course
SHARE