Oysters with Grated Horseradish & Pickled Beet
Automne 2015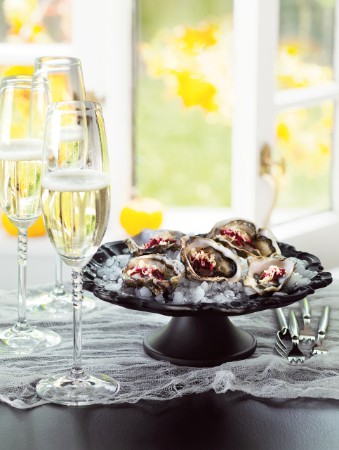 Oysters with Grated Horseradish & Pickled Beet
Automne 2015
BY: Eshun Mott
The classic mignonette sauce usually served with oysters is taken a step further when it's used to pickle roasted beets. A new twist and a gorgeous garnish all in one.
2 medium beets
2 tsp (10 mL) olive oil
½ cup (125 mL) red wine vinegar
1 tbsp (15 mL) sugar
1 tbsp (15 mL) finely chopped shallot
½ tsp (2 mL) black peppercorns
Pinch salt
24 oysters
Crushed ice
2 tbsp (30 mL) finely grated fresh horseradish root
1 Preheat oven to 400°F (200°C).

2 Place beets on a sheet of foil, drizzle with oil, fold and crimp foil to enclose. Place on a baking sheet and roast for 1 hour or until tender. Let cool, then peel and cut or grate into a fine julienne.

3 Combine vinegar, sugar, shallots, peppercorns and salt in a small pot. Bring to a boil, cover and simmer for 5 minutes. Place beets in a heatproof bowl. Pour boiling vinegar mixture through a strainer over beets. Reserve.

4 Shuck oysters and place decoratively on a serving platter covered with crushed ice. Top each with a small spoonful of pickled beets, a tiny drizzle of beet liquid and a pinch of horseradish.
SHARE