Oysters Verte
Temps des Fêtes 2002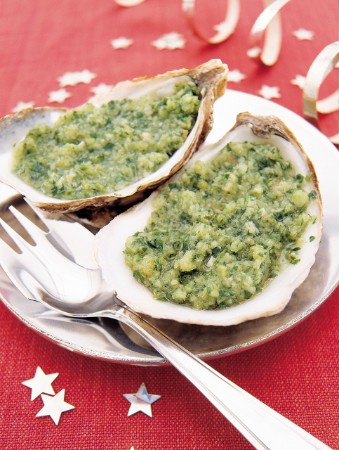 Oysters Verte
Temps des Fêtes 2002
BY: Lucy Waverman
This lovely first course is the perfect appetizer before Christmas dinner or any other special meal. You can buy shucked oysters and place them in buttered individual gratin dishes topped with sauce if there are no shells. Use anisette if Pernod is unavailable. Rock salt or coarse sea salt on the cookie sheet will prevent the oysters from falling over.
24 oysters on half shell
1 cup (250 mL) butter
1/3 cup (75 mL) finely chopped parsley
¼ cup (50 mL) finely chopped celery
1 1/3 cups (325 mL) finely chopped shallots
1 clove garlic, finely chopped
2 cups (500 mL) chopped watercress leaves
1/3 cup (75 mL) chopped fennel
1/3 cup (75 mL) dried bread crumbs
1 tbsp (15 mL) Pernod
Salt and freshly ground pepper
1. Preheat oven to 450°F (230°C).

2. Cover baking sheet with rock salt. Arrange oysters on top. Heat butter in skillet. Add parsley, celery, shallots and garlic. Cook for 3 minutes or until softened. Add watercress and fennel and cook for a further minute.

3. Purée mixture in food processor with bread crumbs and Pernod. Season with salt and pepper to taste.

4. Put 1 tbsp (15 mL) sauce on each oyster. Spread to rim of shell.

5. Bake for 4 minutes or until sauce bubbles.
SHARE