Oyster Stew
Temps des Fêtes 2008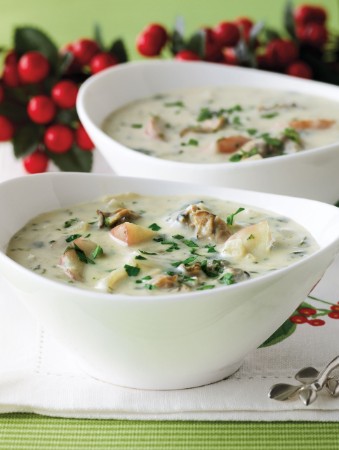 Oyster Stew
Temps des Fêtes 2008
BY: Lucy Waverman
This is a cross between a soup and a stew. Small portions can be served as a first course, larger portions as a main course accompanied by French baguette. Ask your fishmonger to shuck the oysters for you, reserving the flesh and the juice―it makes this a very easy recipe. Use pre-shucked oysters within a day. If you buy frozen shucked oysters, cook them an extra minute or 2 as they are often quite large.
24 oysters
¼ cup (50 mL) butter
2 cups (500 mL) chopped onions
1 cup (250 mL) chopped red potatoes
½ cup (125 mL) chopped fennel
¼ cup (50 mL) finely chopped shallots
2 tsp (10 mL) finely chopped garlic
1 cup (250 mL) fish or chicken stock
1 bunch watercress, leaves only, coarsely chopped
1 cup (250 mL) whipping cream
2 tbsp (25 mL) finely chopped parsley
Salt and freshly ground pepper
1. Shuck oysters reserving oysters and liquid.

2. Heat butter in a soup pot over medium-low heat. Add onions and potatoes and sauté for 10 minutes, stirring occasionally, or until potatoes are crisp tender. Vegetables should be softened but not browned. Add fennel, shallots and garlic and cook for 3 minutes or until shallots are softened.

3. Pour in stock, add watercress and raise heat to bring to boil. Boil until stock is reduced and potatoes are tender, about 3 minutes. Add cream and bring to boil. Reduce heat and simmer for 2 minutes, then add reserved oysters, oyster liquid and parsley. Heat gently for 3 minutes, season to taste and serve immediately.
SHARE