Oven-Baked Quick Haddock with Stir-Fried Squash, Brussels Sprouts & Onions
Holiday 2012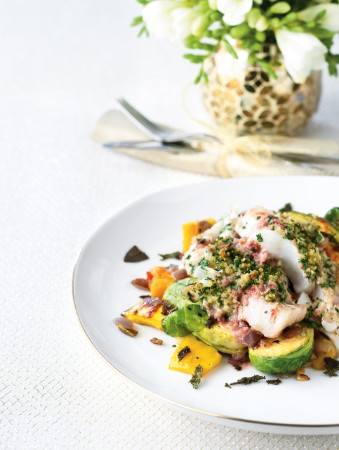 Oven-Baked Quick Haddock with Stir-Fried Squash, Brussels Sprouts & Onions
Holiday 2012
BY: Lucy Waverman
A sensational quick main course. Fresh haddock produces the best result. If haddock is not available, replace with cod, salmon or European sea bass and cook the same way. However, salmon will cook for 5 minutes longer.
4 haddock or cod fillets, about 6 oz (175 g) each
Salt and freshly ground pepper to taste
2 tbsp (30 mL) blood orange juice
2 tbsp (30 mL) butter
1 tbsp (15 mL) chopped garlic
½ cup (125 mL) rye bread crumbs
¼ cup (60 mL) chopped parsley
1 Preheat oven to 450°F (230°C).

2 Butter an ovenproof baking dish. Place fish in baking dish, season with salt and pepper. Fish can be nestled close to each other but not overlapping.

3 Drizzle blood orange juice over fish.

4 Melt butter in a small pot over medium-low heat. Add garlic and cook for 1 minute to temper. Remove from heat. Add bread crumbs and parsley, toss to combine and season with salt and pepper. Sprinkle over fish.

5 Bake for 8 to 10 minutes or just until white juices start to run. Serve fish with pan juices over Stir-Fried Squash, Brussels Sprouts & Onions (recipe to follow).

STIR-FRIED SQUASH, BRUSSELS SPROUTS & ONIONS

Double the quantities in this recipe and serve as a side dish to turkey. The buttercup squash is drier than butternut and tastes like chestnuts. If you cannot find it then use butternut.

2 cups (500 mL) peeled buttercup squash, cut in 1 inch (2.5 cm) dice, about 12 oz (375 g)
3 tbsp (45 mL) olive oil
Salt and freshly ground pepper
6 sage leaves
2 cups (500 mL) diced red onion, 1 inch (2.5 cm) dice
2 cloves garlic, sliced
4 oz (125 g) Brussels sprouts, trimmed and cut in half if large
½ tsp (2 mL) Asian chili sauce
1 Preheat oven to 425°F (220°C).

2 Toss squash with 1 tbsp (15 mL) olive oil and season with salt, pepper and sage. Roast for 15 minutes, turning once, or until browned and tender-crisp. Set aside.

3 Heat remaining oil in skillet over medium-high heat. Add onion and sauté for 3 minutes or until softened and lightly golden. Stir in garlic and Brussels sprouts, continue to toss together until well mixed. Cover pan and cook on low heat for 5 minutes. Uncover, add squash (reserving sage leaves) and chili sauce. Cover again for 5 more minutes or until Brussels spouts are tender. Season well with salt and pepper and crumble over crisped sage leaves.
SHARE