Oven-Baked Lobster Risotto
Early Summer 2015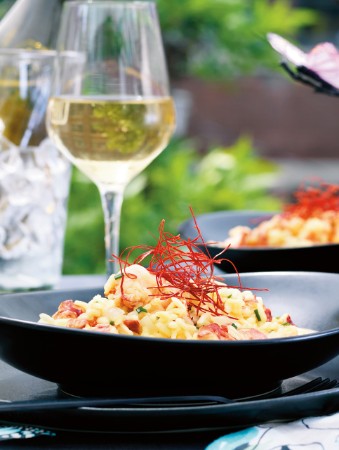 Oven-Baked Lobster Risotto
Early Summer 2015
BY: Christopher St. Onge
Making your own lobster stock is quick, and it ensures a spectacular risotto. If you prefer, you can use purchased fish stock, but the finished rice will not be quite as sweet. Baking risotto, instead of stirring constantly on the stove top, yields terrific results and puts you back at the table in no time. Dried chili threads are available at Korean grocers where they may be labelled silgochu. If unavailable, use additional chives to garnish.
3 live lobsters, each 1½ lbs (750 g)
½ cup (125 mL) butter, 1 stick, divided
1 onion, chopped
2 cloves garlic, finely chopped
2 cups (500 mL) arborio, or carnaroli rice
1 cup (250 mL) dry white wine, preferably an oaked Chardonnay
Generous pinch saffron
6 cups (1.5 L) Lobster Stock (recipe follows), or purchased fish stock
¼ cup (60 mL) finely chopped chives
Salt and freshly ground pepper to taste
Dried chili threads to garnish (optional)
1 Bring a large pot of salted water to a boil. Prepare an ice bath in sink or a large bowl. Plunge lobsters, head first, into boiling water; bring back to a boil and cook for 7 minutes. Remove with tongs and submerge in ice bath.

2 When cool enough to handle, remove tail and claw meat, all the while working over a bowl to catch drippings (reserve bodies and all shells to make lobster stock if desired). Set meat and any collected cooking juices aside (this may be done up to 1 day in advance and kept covered and refrigerated).

3 Preheat oven to 400°F (200°C).

4 In a Dutch oven with a tight-fitting lid, melt ¼ cup (60 mL) butter over medium heat. Add onion to pot and cook until translucent, about 3 minutes. Stir in garlic and cook 1 minute longer. Add rice, stir to coat in butter, and cook an other minute. Pour wine over rice and sprinkle with saffron; bring to a boil and stir until wine is absorbed. Add stock to pot, return to a boil, cover, and place in oven. Bake for 20 minutes.

5 Remove from oven and add remaining ¼ cup (60 mL) butter, reserved lobster meat, accumulated juices and chives; stir until butter is melted and rice is creamy. Check for seasoning; add salt and pepper if necessary. Divide between 6 warm bowls, and top each with a pinch of chili threads.

LOBSTER STOCK

Hang onto those lobster shells next time you have a lobster boil! While the lobster stock is tailor-made for the lobster risotto, it's also a terrific addition to seafood pastas and stews, and because the flavour is not overly assertive, this stock can be used anywhere fish stock is called for.

2 tbsp (30 mL) grape-seed or vegetable oil
1 small onion, chopped
1 cup (250 mL) chopped fennel
1 ripe, medium-size tomato, chopped
Shells and bodies from 3 lobsters, each 1½ lbs (750 g), cleaned, roughly chopped (see TIP below)
1 length of orange peel, 6 inches (15 cm)
6 cups (1.5 L) water
Salt and freshly ground pepper to taste
1 Heat oil in a large pot over medium heat. Cook onion until translucent, about 3 minutes. Add fennel and tomato; stir to combine
and cook an additional minute or until tomato begins to break down.

2 Add lobster shells and bodies to pot along with orange peel and water; bring to a boil, cover, reduce to low, and simmer for 15 minutes. Strain through a fine mesh sieve and season to taste with salt and pepper. Discard solids; cover and refrigerate stock until ready to use (while stock will keep for 3 days, it best to use harvested lobster meat within 1 day).

TIP To clean lobster shells and bodies for use in stock follow 2 simple rules of thumb: clean (by cutting or pulling) and discard anything that isn't white, pink or red. Secondly, rinse the body but only enough to clean it of the remaining green tomalley.
SHARE