Orecchiette with Rapini, Chilis & Pancetta
Holiday 2016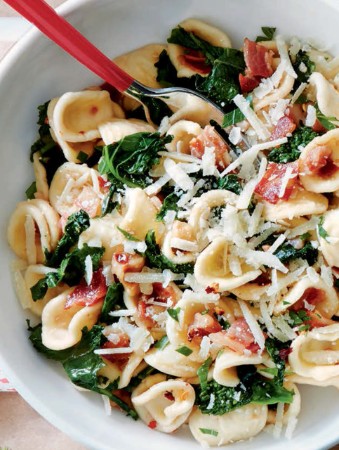 Orecchiette with Rapini, Chilis & Pancetta
Holiday 2016
BY: Eshun Mott
The strong flavour of rapini is tempered with garlic and pancetta in this recipe. Tossed with plenty of Parmesan, walnuts and parsley, it makes a delicious dish of pasta.
1 lb (500 g) orecchiette
5 tbsp (75 mL) olive oil, divided
5 oz (150 g) thinly sliced pancetta, chopped
¼ cup (60 mL) chopped garlic
½ tsp (2 mL) chili flakes
1 lb (500 g) bunch of rapini, ends trimmed and coarsely chopped
½ cup (125 mL) finely grated Parmesan
Salt and freshly ground pepper
¼ cup (60 mL) chopped toasted walnuts
¼ cup (60 mL) chopped Italian parsley (plus more for serving)
1 Bring a large pot of salted water to a boil. Add orecchiette and boil until al dente according to pasta cooking directions. Drain, reserving about 1 cup (250 mL) pasta cooking water.

2 Heat 1 tbsp (15 mL) oil in a large frying pan on medium heat. Add pancetta and fry for 5 minutes or until crispy. Remove pancetta to a plate and set aside (leaving fat in pan). Add remaining ¼ cup (60 mL) oil to pan. Add garlic and chili flakes and sauté for 2 minutes or until garlic is lightly golden. Add rapini, turn heat to high and sauté for 4 to 6 minutes or until wilted and beginning to roast at edges. Add pasta to pan, and toss to combine. Sprinkle with Parmesan and drizzle in between ¼ to ⅓ cup (60 to 80 mL) pasta cooking water to loosen. Season with salt and pepper to taste. Add reserved pancetta, walnuts and parsley and toss until just incorporated.
SHARE