Orange Squash, and Ginger Soup
Holiday 2002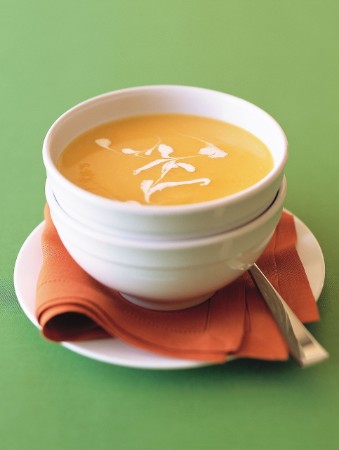 Orange Squash, and Ginger Soup
Holiday 2002
BY: Lucy Waverman
This is a Japanese-inspired version of squash soup. The inclusion of miso and sake give it a rich taste without using cream, and cooking it with orange juice brings out the sweetness of the squash.
The wasabi cream offsets the sweetness, but it can be omitted.
2 tbsp (25 mL) olive oil
1 1/2 cups (375 mL) onion, chopped
4 cups (1 L) peeled and diced butternut squash
2 cups (500 mL) peeled and diced potatoes
1/2 cup (125 mL) fresh orange juice
1/4 cup (50 mL) sake
2 tbsp (25 mL) light miso
5 cups (1.25 L) chicken stock
2 tbsp (25 mL) chopped pickled ginger
1/2 tsp (2 mL) grated orange rind
Salt and freshly ground pepper

Wasabi Cream
1 tsp (5 mL) wasabi powder
1 tsp (5 mL) water
2 tbsp (25 mL) whipping cream
1. Heat oil in a pot on medium-high heat. Sauté onion until softened, about 2 minutes. Add squash and potatoes and sauté 1 minute longer.
2. Whisk together orange juice, sake and miso. Add to vegetables along with stock. Bring to a boil, then turn heat down and simmer uncovered for 20 minutes, or until vegetables are soft.
3. Add pickled ginger and orange rind and puree in a food processor or blender. Return to pot, season with salt and pepper.
4. Combine wasabi powder and water and stir to dissolve. Add whipping cream and stir until combined. Drizzle surface of each bowl of soup with about 1 tsp (5 mL) wasabi cream.
SHARE