Orange Saffron Granita with Cardamom Cream
Début de l'été 2018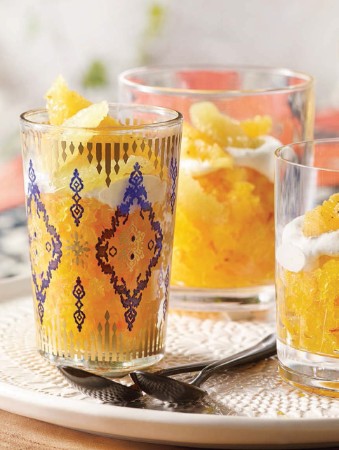 Orange Saffron Granita with Cardamom Cream
Début de l'été 2018
BY: Donna Borooah
This dessert tastes like a warmly spiced version of a Creamsicle. Lightly sweet, it's very refreshing after a big barbecue. On a hot day, divide granita into glasses ahead of time and keep frozen until ready to serve. This recipe can be made with store-bought freshly squeezed orange juice. The orange saffron syrup is also great in cocktails. Combine with 6 oz gin and shake with ice. Divide between 4 cocktail glasses and garnish with orange peels.
2 cups (500 mL) freshly squeezed orange juice, divided, about 5 oranges
Peels of 2 oranges
½ tsp (2 mL) saffron
½ cup (125 mL) sugar
¼ cup (60 mL) lime juice

CARDAMOM CREAM
¾ cup (175 mL) heavy cream, chilled
1 tbsp (15 mL) icing sugar
½ tsp (2 mL) vanilla extract
¼ tsp (1 mL) ground cardamom
Spiced Citrus Segments (recipe follows)
1. Heat ½ cup (125 mL) orange juice, peels and saffron in a small pot over medium heat. Add sugar and stir until dissolved, about 2 minutes. Cool completely, remove and discard peels. Stir in remaining 1½ cups (375 mL) orange juice and lime juice then pour syrup mixture into a wide dish.

2. Freeze uncovered until icy, scraping mixture with a fork every 30 minutes for about 2½ to 3 hours. Cover and freeze until needed.

3. Whip cream, icing sugar, vanilla and cardamom in a large mixing bowl with a wire whisk until soft peaks form. Reserve chilled until needed (up to 4 hours ahead).

4. Divide granita between 4 glasses. Garnish with cream and Spiced Citrus Segments.
SPICED CITRUS SEGMENTS

Squeeze membranes of oranges and lime over a bowl to collect any remaining juice, use in other recipes. The lime segments add a pop of tang. If you prefer a sweeter dessert, leave them out. Can be made 2 days ahead. Store in the fridge in an airtight container.

2 oranges
1 small lime (optional)
1 tbsp (15 mL) sugar
Pinch cinnamon
Pinch black pepper
1. Cut the stem and navel ends of each orange. Repeat with lime, if using.

2. Following the curve of the oranges (and lime if using), use downward strokes to trim off the skin and white pith.

3. Working over a bowl, use a small knife to cut the individual segments away from their separating membranes by cutting towards the centre of the orange on either side of the segment. Collect the segments in the bowl below as you go. Repeat with lime, if using.

4. Combine citrus segments with sugar, cinnamon and pepper.
SHARE