Orange Roast Chicken
Holiday 2007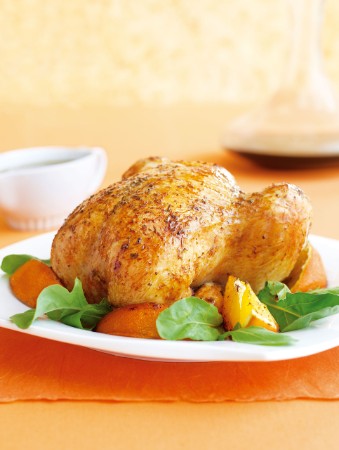 Orange Roast Chicken
Holiday 2007
BY: Jennifer McLagan
Orange matched with the herbes de Provençe gives the chicken a delicious Mediterranean flavour. The orange flavour is further enhanced by the wedges roasted along with the chicken—and their flesh is good to eat.
1 chicken, about 4½ lbs (2.25 kg)
Sea salt and freshly ground pepper
3 large oranges
2 large garlic cloves, unpeeled and crushed
2 tbsp (25 mL) unsalted butter, melted
2 tsp (10 mL) herbes de Provençe
1 tbsp (15 mL) vegetable oil
½ cup (125 mL) homemade or low-salt chicken stock
1. Preheat the oven to 425°F (220°C).

2. Wash and pat the chicken dry, remove any excess fat. Season the chicken cavity with salt and pepper.

3. Squeeze the juice from 1 orange, then set the juice aside. Put the squeezed orange halves and garlic inside the chicken. Skewer the cavity closed and truss the bird. (Take a piece of string at least 4 feet (1.3 m) long and place it under the tail. Cross the 2 ends of string above the bird and then loop them around each leg. Pull tightly to bring the tail and legs together, then tie a knot. Turn the bird on its breast, take 1 end of the string, leaving the other end loose, pull it across the leg, then loop it around the wing, through the space formed by the wing tip across the neck flap and then through and around the other wing. Tie the ends of the string in a knot on the side of the bird, and cut off any excess string).

4. Brush the chicken all over with the melted butter and then season well with salt and pepper and sprinkle with Herbes de Provençe. Cut the remaining 2 oranges into quarters.

5. Coat the bottom of a roasting pan with the oil, then place the chicken in the pan, with the orange quarters.

6. Roast the chicken for 20 minutes then reduce the oven temperature to 350°F (180°C). Continue to roast the chicken, basting with the pan juices for another hour or until an instant-read thermometer inserted into the thickest part of the thigh reads 165°F (73 C).

7. Transfer the chicken and oranges to a serving platter, placing the chicken breast-side down. Let rest loosely covered with aluminium foil for 10 to 15 minutes.

8. Tip the roasting pan and spoon out any excess fat. Place the pan over medium heat, add the chicken stock and deglaze the pan by scraping up the browned bits from the bottom with a wooden spoon. Add the orange juice and bring to a boil, then boil until the liquid is reduced to about ⅔ cup (150 mL) then season with salt and pepper.

9. Remove the trussing string from the chicken and carve. Add any juices from the chicken to the sauce. Serve the chicken with the sauce and orange wedges.
SHARE