Orange & Thyme-Glazed Roast Cornish Hens
Holiday 2014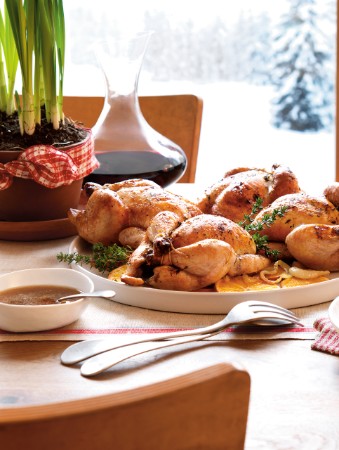 Orange & Thyme-Glazed Roast Cornish Hens
Holiday 2014
BY: Jennifer MacKenzie
Thyme and orange add a delicate flavour and a burnished glaze to these roasted Cornish hens. Individual hens make a nice change from a whole turkey or a large roast and are easy to cook. Roasting them is quick and once they're out of the oven all you have to do is present them on a platter. You can cut the roasted hens in half before arranging on the platter in case some guests may only want half, or cut some in half and leave some whole to offer the option.
3 oranges
¼ cup (60 mL) butter, melted
1 tbsp (15 mL) chopped fresh thyme
Salt and freshly ground pepper
8 Cornish hens, each about 1¼ lbs (625 g)
1 onion, cut crosswise into
¼-inch (5-mm) slices
8 sprigs fresh thyme
1 cup (250 mL) unsalted chicken stock or broth
1 Preheat oven to 425°F (220°C).

2 Grate 2 tsp (10 mL) zest from 1 of the oranges and squeeze out ¼ cup (60 mL) juice. Cut remaining 2 oranges crosswise into ¼-inch (5-mm) slices. Cut 4 of the slices in half. Set juice and sliced oranges aside separately.

3 Combine zest with melted butter, chopped thyme and ½ tsp (2 mL) each of salt and pepper in a small bowl.

4 Remove any giblets from Cornish hens and trim off long necks if necessary. Rinse and pat hens dry. Arrange whole orange slices and onion slices alternating on a large rimmed baking sheet. Place hens on top. Insert 1 halved orange slice and 1 sprig thyme in the cavity of each hen. Tie legs together and tuck wings under back. Brush evenly with butter mixture. Roast for 15 minutes.

5 Reduce oven temperature to 375°F (190°C) and roast hens for 30 minutes.

6 Brush hens liberally with reserved orange juice, then baste with pan juices. Roast for about 30 minutes longer, basting once with pan juices, or until a meat thermometer inserted in the thickest part of thigh and breast reads 170°F (77°C). Using spatulas, transfer hens to a cutting board or another baking sheet and tent with foil for 15 minutes.

7 Using a slotted spoon, transfer oranges and onions to a warmed platter. Pour pan juices into a measuring cup. Spoon off fat and discard. Pour juices into a medium saucepan and add chicken stock. Bring to a boil over high heat. Boil, stirring, for about 10 minutes or until reduced by about half. Season to taste with salt and pepper.

8 Arrange hens on the platter on top of oranges and onions and serve jus in a warmed gravy boat alongside.
SHARE