Open-Faced Tuna Melts with Artichokes and Provolone
Hiver 2007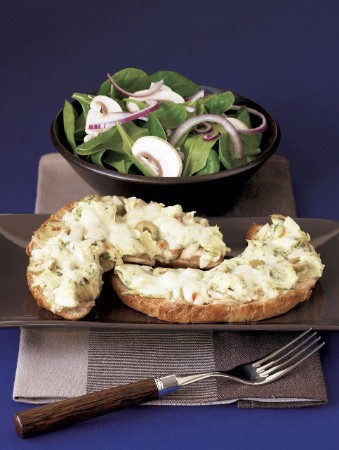 Open-Faced Tuna Melts with Artichokes and Provolone
Hiver 2007
BY: Marilyn Bentz-Crowley
When winds are howling and the snow is deep, head for the pantry to make this hot sandwich. While truly decadent when made with all-butter croissants, thick slices of Italian bread are also a delicious base. Basil grows well in a sun-drenched indoor spot and can even be rooted from a bunch purchased at the grocery store. (Just take off large leaves for recipes and plop stem with small top leaves still attached into water on a sunny windowsill. Transfer to soil-filled pot when rooted.)
Two 6 oz (175 g) cans water-packed tuna, white or light
One 398 mL can artichoke hearts
½ cup (125 mL) cup pimento-stuffed green or black olives (optional)
½ cup (125 mL) mayonnaise
1/8 tsp (0.5 mL) cayenne
1½ cups (375 mL) grated provolone or mozzarella, divided
2 tbsp (25 mL) chopped fresh basil or ½ tsp (2 mL) dried
4 all-butter croissants or thick slices Italian bread
Grindings of black pepper
1. Drain and flake tuna; set aside. Drain artichokes then place on paper towels or a clean kitchen towel to further drain. Thinly slice olives and place in a small bowl. Chop artichokes; add to olives. Add mayonnaise, cayenne, ½ cup (125 mL) cheese, basil.

2. Preheat broiler.

3. Cut croissants in half horizontally; open up. Dividing equally, top croissants with tuna. Spread with artichoke mixture right to edges. Sprinkle with remaining cheese.

4. Place sandwiches carefully on rack of broiling pan. Broil 2 to 4 minutes or until lightly browned and hot. Serve open-faced sandwiches hot with spinach salad.
SHARE