Open-Face Hamburger with Kimchee Mayonnaise
Early Summer 2011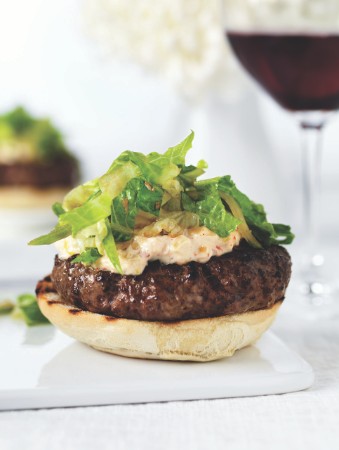 Open-Face Hamburger with Kimchee Mayonnaise
Early Summer 2011
BY: Lucy Waverman
Large juicy burgers that match perfectly with a big Aussie Rhône-style blend. This is a take on a burger I had in an Adelaide restaurant which specialized in bistro food with Asian touches. Using kimchee to make the mayonnaise adds extra flavour to the hamburger, and the slaw is crisp and cooling.
BURGERS
2 lbs (1 kg) coarsely ground chuck
1 tsp (5 mL) Asian chili sauce
2 tbsp (25 mL) soy sauce
2 tsp (10 mL) chopped garlic
Salt and freshly ground pepper

KIMCHEE MAYONNAISE
½ cup (125 mL) chopped kimchee
½ cup (125 mL) mayonnaise
1 tbsp (15 mL) lemon juice

SLAW
2 cups (500 mL) shredded lettuce
1 cup (250 mL) julienned snow peas
1 cup (250 mL) julienned cucumber
½ cup (125 mL) julienned green onions
¼ cup (50 mL) slivered mint
1 tbsp (15 mL) rice vinegar
1 tbsp (15 mL) vegetable oil
1 tsp (5 mL) soy sauce
1 tsp (5 mL) sesame oil
¼ tsp (1 mL) grated ginger


1. Preheat grill on high heat.

2. Combine chuck, Asian chili sauce, soy sauce and garlic and season with salt and pepper to taste. Form 6 burgers, making them about 1 inch (2.5 cm) thick.

3. Combine kimchee, mayonnaise and lemon juice in a small bowl. Set aside.

4. Combine lettuce, snow peas, cucumber, green onions and mint in a large bowl. Whisk together rice vinegar, vegetable oil, soy sauce, sesame oil and grated ginger, and toss with salad ingredients just before serving.

5. Grill burgers for 4 minutes per side or until medium, or longer for desired degree of doneness. Serve burgers on an open-face bun topped with kimchee mayonnaise and slaw.


SHARE