Onion Gratin with Fresh Thyme
Holiday 2009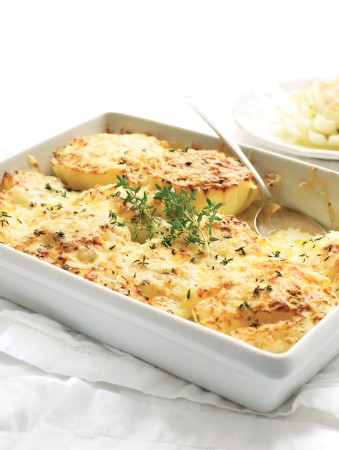 Onion Gratin with Fresh Thyme
Holiday 2009
BY: Marilyn Bentz-Crowley
Spanish onions are plentiful; however, a mixture of both yellow and red onions looks quite attractive in this bake of "blooming" onions. Avoid purchasing the largest onions and instead, opt for smaller-size ones that are better for portioning. Unlike traditional creamed onions of past holidays, expect this dish to be quite popular as these onions are truly delicious.
6 medium sweet onions such as Spanish or red or a mixture
1 tbsp (15 mL) olive oil
1 tbsp (15 mL) chopped fresh thyme
½ tsp (2 mL) salt
Several grindings of black pepper
½ cup (125 mL) whipping cream
3 tbsp (45 mL) dry white wine
½ cup (125 mL) freshly grated Parmesan cheese
1½ cups (375 mL) grated Gruyère
Several sprigs fresh thyme
1. Place rack just above centre; preheat oven to 375°F (190°C).

2. Thinly remove both ends of onions; peel onions. Cut each in half around the equator.Using a sharp chef's knife, cross-hatch these inner surfaces with cuts about ½ inch (1 cm) apart, going quite deeply down, but not through narrow ends of rounds. Lay them snugly, cut-side up, on a rimmed baking tray.

3. Drizzle with oil; sprinkle with chopped thyme, salt and pepper. Bake uncovered for20 minutes. Transfer onions, cross-hatched side up, fitting snugly into a baking dish just large enough to hold all in a single layer, such as a large oval gratin dish or 9 x 13-inch (3-L) dish.

4. Stir cream with wine; pour over onions. Cover dish with foil; continue baking for 25 minutes or until onions are tender when pierced with the tip of a knife. Remove dish from oven; uncover onions.

5. Increase oven temperature to 450°F (230°C).

6. Sprinkle onions with Parmesan; then with Gruyère. Bake uncovered for 8 minutes o until cheese is golden and sauce is bubbling. Serve garnished with thyme, whole or chopped.
SHARE