Onion Flowers
Automne 2012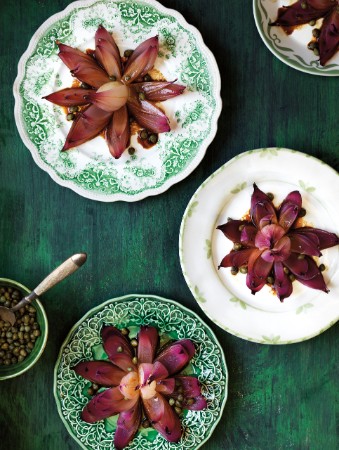 Onion Flowers
Automne 2012
BY: Lucy Waverman
These pretty onions are delightful to serve with any grilled meat. I love them with roast beef too. You can also prepare Vidalia onions this way if they are available. Make sure the onions are small because they become too much to serve when they are big, and you lose the flower-like effect if you cut them in half. Don't remove the core: it looks chrysanthemum-like as the onions open. The onions open into flowers as they bake.
4 small red onions
3 tbsp (45 mL) olive oil
2 tbsp (30 mL) balsamic vinegar
Salt and freshly ground pepper
2 tsp (10 mL) capers, optional
1 Preheat oven to 425°F (220°C).

2 Peel onions and cut a thin slice along the root end to flatten bottoms so onions will stand up. Cut onion in half down to about ½ inch (1 cm) of the root end but not through. Cut onion in half again crosswise to ½ inch (1 cm) of the root. Cut each quarter in half again but not through the root. You should have 8 wedges. The onion should look like a tight tulip head.

3 Place in a bowl and gently toss with 2 tbsp (30 mL) olive oil and balsamic. Season with salt and pepper. Oil a baking dish with the remaining oil. Add onions leaving some space between as they open up. Cover with foil and bake for 25 to 30 minutes or until onions have opened up and are nearly tender.

4 Uncover and bake 10 minutes longer. Serve each onion with a sprinkling of capers, if desired.
SHARE