Olive Oil Cake with Candied Blood Orange Slices
Holiday 2014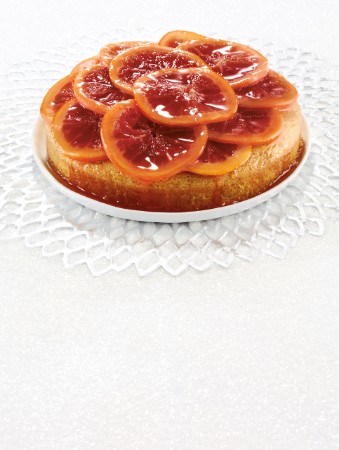 Olive Oil Cake with Candied Blood Orange Slices
Holiday 2014
BY: Victoria Walsh
Skip the usual butter-laden cake batter in favour of an olive oil-based one. The flavour really shines through so select an olive oil with sweet and fruity notes or just one that you really enjoy. Beautiful blood oranges are available during the holidays but feel free to make this delicious snacking cake any time of the year with navel oranges.
1½ cups (375 mL) cake and pastry flour (not self-raising)
1½ tsp (7 mL) baking powder
¼ tsp (1 mL) salt
3 cups (750 mL) granulated sugar, divided
½ cup (125 mL) olive oil
⅓ cup (80 mL) honey-flavoured Greek yogurt, at room temperature
2 eggs, at room temperature
½ tsp (2 mL) vanilla extract
2 oranges, preferably blood oranges
1 cup (250 mL) water
1 Preheat oven to 350°F (180°C).

2 Grease an 8- or 9-inch (20- or 23-cm) cake pan with olive oil. Whisk flour, baking powder and salt in a large bowl. In another bowl, whisk 1 cup (250 mL) sugar, olive oil, yogurt, eggs and vanilla. Using a wooden spoon or rubber spatula, gently incorporate wet ingredients into dry until evenly mixed. Scrape into pan.

3 Bake in centre of preheated oven for about 30 minutes until a cake tester or toothpick inserted into centre of cake comes out clean. Let cool for 5 minutes. Turn onto a rack. Cool completely.

4 Meanwhile, slice oranges very thinly. Place remaining 2 cups (500 mL) sugar and 1 cup (250 mL) of water in a large saucepan. Set over medium heat. Carefully add orange slices. Cook in syrup for 50 minutes until translucent and softened. Using a fork, carefully remove from syrup allowing excess syrup to drip back into pan. Arrange slices over a parchment-lined baking sheet. When slices are removed, continue simmering syrup for5 more minutes until reduced.

5 Poke holes over top of cake. Drizzle with a little bit of syrup. Arrange candied orange slices overtop. Drizzle with more syrup, if desired. Delicious served with ice cream or whipped cream.
SHARE