Oktoberfest Slow Cooker Root Veg & Sausage
Autumn 2019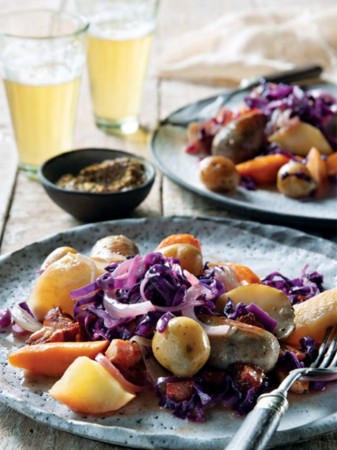 Oktoberfest Slow Cooker Root Veg & Sausage
Autumn 2019
BY: Signe Langford
This classic German one-pot wonder is loaded with red onion, purple cabbage, potatoes, carrots and parsnips, all braised in apple cider. If you can find Jerusalem artichokes (sunchokes), add them too! It can be made in a countertop slow cooker or in a Dutch oven on the stovetop or in the oven. If you want to make this hearty dish for Meatless Monday, omit the bacon and switch up the sausages for big, fat king oyster mushrooms, tofu, Japanese eggplant, hardboiled eggs or any of those really great faux-meat sausages, franks or dogs. There's even vegan bacon that's pretty convincing. If you can't find it, no worries! An equal amount of smoked almonds adds a bacony flavour and crunch to a vegetarian dish.
1 tbsp (15 mL) olive oil or lard
4 to 6 slices of bacon, coarsely chopped
4 to 6 German-style sausages
1 large red onion, thinly sliced
2 cloves garlic, minced
1 very small purple cabbage, cored and shredded, about 6 cups (1.5 L) sliced
4 cups (1 L) tiny new baby or fingerling potatoes, washed
3 carrots, peeled, cut into approx. 2-inch (5-cm) pieces
2 parsnips, peeled, cut into approx. 2-inch (5-cm) pieces
1 large apple, cored, cut into approx. 2-inch (5-cm) pieces
5 Jerusalem artichokes (sunchokes), scrubbed, cut in half (optional)
1 tsp (5 mL) sea salt
½ tsp (2 mL) pepper
¼ cup (60 mL) red wine vinegar
½ cup (125 mL) dry apple cider
Sour cream to garnish
1 Into a slow cooker on "brown" or a Dutch oven over medium-high heat, add the oil and bacon; stir often until bacon softens, about 3 minutes. Add the sausages and, turning occasionally, brown on all sides, about 10 minutes. Transfer browned sausages and bacon to a plate; set aside.

2 Reduce heat to medium-low and add the onions and garlic, stirring often until they are soft and translucent. Add the cabbage, potatoes, carrots, parsnips, apple and artichoke, if using; stir. Add salt and pepper, stir, then add the red wine vinegar and apple cider; stir.

3 Return the sausage, bacon and any drippings to the pot, arranging them on top of cabbage mixture. Cover, reduce slow cooker heat to low and cook for 6 to 8 hours (or if using a Dutch oven, pop covered pot into a 425°F/220°C oven for 50 minutes), or until a knife can easily pierce the root veggies. Remove lid and allow excess liquid to steam off for about 10 minutes. There should just be 1 or 2 inches (2.5 to 5 cm) of broth. Taste for salt; adjust if desired.

4 Bring to the table with a warm-from-the-oven loaf of crusty German rye, a dish of sour cream and some strong German mustard.


Serves 4 to 6 (1 sausage per person) 
SHARE