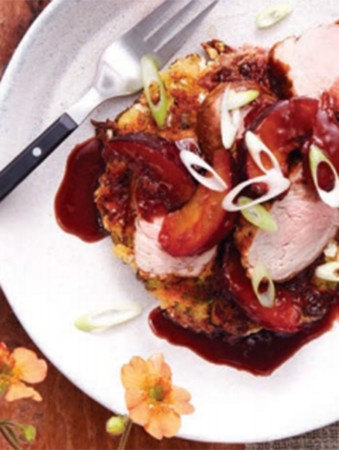 BY: Tonia Wilson-Vuksanovic
Okonomiyaki are Japanese stuffed pancakes that are normally made with cabbage but can have many other additions. Okonomi translates to "to your liking" and yaki means "cooked"—this simple version is a great accompaniment to the pork.
3 cups (750 mL) finely shredded Savoy cabbage, thick ribs trimmed away
1 cup (250 mL) finely chopped green onions
2 tbsp (30 mL) finely chopped pickled ginger
3/4 cup (175 mL) panko bread crumbs
3 large eggs, lightly beaten
Salt to taste
1/4 cup (60 mL) vegetable or canola oil, divided
1. In a large bowl, mix together cabbage, green onions, pickled ginger, panko, eggs and salt. Let sit for 20 minutes to soften slightly.

2. Stir again just before cooking.

3. In a large skillet, heat half of the oil over medium-low heat and, using a large spoon, divide the mixture into 4 separate piles in the skillet. Using a spatula, flatten piles and form into circles, trying to keep them separate.

4. Cover with lid and cook on medium for 5‑minutes or until lightly browned.

5. Gently turn over, add remaining oil and continue cooking, covered, for another 5 minutes. Remove lid and continue to further brown each side if needed.

6. Serve warm.
SHARE