North African Spiced Whole Leg of Lamb
Summer 2018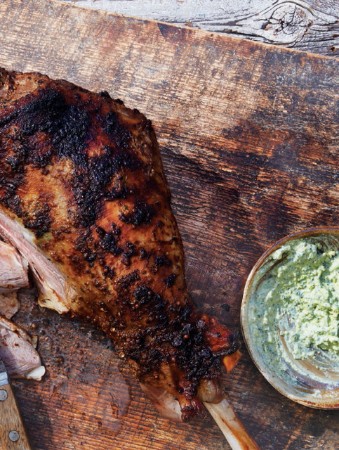 North African Spiced Whole Leg of Lamb
Summer 2018
BY: Michelle Rabin
A leg of lamb is the perfect cut of meat to roast on the barbecue. This show-stopping dish is regal in both its appearance and explosive flavour. Lamb's bold, gamey flavour is complemented by the smoky grill, and when that smokiness is layered with dramatic spices like cumin, coriander and smoked paprika, a masterpiece is made. Serve tender, juicy slices of lamb with Mint Pesto Yogurt Sauce (recipe follows) to cool the intensity.
½ cup (125 mL) olive oil

¼ cup (60 mL) apple cider vinegar

1 onion, quartered

5 garlic cloves, smashed

½ cup (125 mL) parsley, roughly chopped

3 tbsp (45 mL) ground cumin

1 tbsp (15 mL) smoked paprika

2 tbsp (30 mL) coriander seed

3 tbsp (45 mL) kosher salt

1 tsp (5 mL) cayenne pepper

1 bone-in leg of lamb, 8 lbs (3.63 kg)
1. Place olive oil, vinegar, onion, garlic, parsley, cumin, smoked paprika, coriander seed, salt and cayenne pepper in a food processor. Pulse until a chunky paste forms.



2. Place lamb in a large baking dish. Using a sharp paring knife, poke the meat several times on all sides.



3. Spoon the marinade over all sides of the lamb leg. Cover with plastic wrap and let marinate in the refrigerator for minimum 3 hours or preferably overnight.



4. Let lamb come to room temperature before grilling by removing it from fridge 1 hour before cooking.



5. Set up your barbecue for indirect grilling by turning the outside 2 burners to medium-high and leaving the centre burner off.



6. Remove lamb from baking dish and discard any remaining marinade. Place the lamb on 1 of the outer 2 burners over direct heat. Sear until deep brown and crisp, about 3 minutes per side. Rotate until all sides are seared.



7. Move the lamb, fat-side up, into the centre of the barbecue over indirect heat. Close lid of barbecue and adjust burners to maintain a temperature of 325° to 350°F (160° to 180°C). Refrain from opening and closing the barbecue as much as possible. Cook lamb until an instant-read thermometer inserted 2 inches (5 cm) deep into the thickest part of the meat registers 135°F (57°C), about 1 hour and 30 minutes. The meat will continue to cook once removed from the barbecue to 145°F (63°C), medium-rare.



8. Let lamb rest for minimum 20 minutes. Slice thinly when ready to serve along with Mint Pesto Yogurt Sauce.

MINT PESTO YOGURT SAUCE



This herbaceous condiment is perfect to serve with toasted bread, grilled meat or as a dip. Here, we recommend serving it with lamb. Thanks to the sour yogurt, sweet mint and bright lemon, it has the ability to stand up to lamb's gamey flavour. Pistachios also play a role, adding a smooth nutty richness. Keep it in your fridge for up to three days and discover all its possibilities.



1½ cups (375 mL) greek yogurt

1½ cups (375 mL) packed mint leaves

1 cup (250 mL) basil leaves

½ cup (125 mL) dry roasted pistachios

Juice and zest of 1 lemon

2 cloves garlic, minced

2 tbsp (30 mL) extra virgin olive oil

1 tsp (5 mL) salt
1. Place ingredients in a food processor and pulse until a smooth green mixture forms.
SHARE