Nori-wrapped Salmon with Black Trumpet Mushrooms & Soy Beans in Miso Broth
Autumn 2012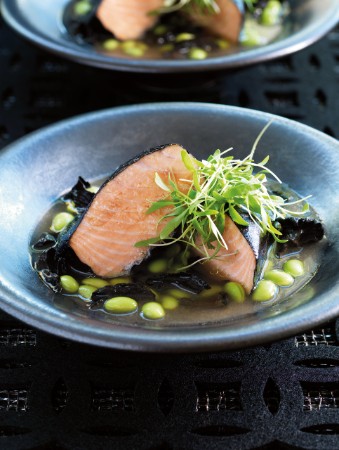 Nori-wrapped Salmon with Black Trumpet Mushrooms & Soy Beans in Miso Broth
Autumn 2012
BY: Christopher St. Onge
Nori, the dried seaweed used in sushi, makes a perfect wrapping for roasted salmon, sealing in moisture and imparting flavour to the fish. A simple miso broth, soy beans and velvety black mushrooms complete a dinner-partyworthy dish.
1 oz (30 g) dried black trumpet mushrooms
5 green onions, trimmed and cut in half
2 inch (5 cm) length of ginger, sliced
1 tbsp (15 mL) soy
2 cloves garlic
4 salmon fillets, each 6 oz (175 g)
Salt and freshly ground pepper
4 sheets nori
1 cup (250 mL) frozen shelled soy beans
2 tbsp (30 mL) miso paste
Micro-greens, or shredded green onion to garnish
1. Soak dried mushrooms in enough warm water to cover for 30 minutes. Drain and rinse mushrooms under cool running water. Slice larger ones in half lengthwise. Set aside.

2. Preheat oven to 400°F (200°C).

3. In a small saucepan, bring 3 cups (750 mL) water to a boil. Add green onions, ginger and soy. Turn heat to low and simmer for 10 minutes. Remove from heat, strain and discard solids. Return broth to pot.

4. Using the side of a large knife, lightly crush garlic to release juices, leaving cloves in 1 piece. Rub salmon with garlic and discard cloves. Season fillets with salt and pepper. Working with 1 sheet of nori at a time, place salmon, skin-side up, in the centre of the nori. Fold edges up and around to enclose salmon as you would a gift-wrapped box. Place, seamside down, on a lightly oiled baking sheet. Repeat with remaining salmon fillets. Roast for 12 to 14 minutes or until just cooked through. Remove from oven and allow to rest while finishing the broth.

5. While salmon is roasting, return broth to a simmer over medium heat. Add soy beans and cook for 4 to 5 minutes or until tender. Stir in mushrooms; cook for 1 minute longer. Remove from heat, add miso paste and stir until miso is dissolved.

6. Divide broth and vegetables between 4 shallow bowls. Slice each salmon fillet in half on the diagonal and place 2 half-fillets in each bowl. Top with a small handful of micro-greens or shredded green onion.


SHARE