Nori-Wrapped Ginger Chicken
Holiday 2002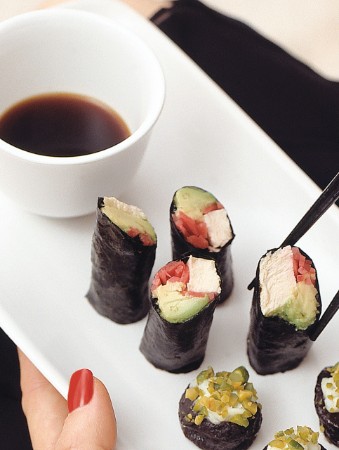 Nori-Wrapped Ginger Chicken
Holiday 2002
BY: Jennifer McLagan
Wrap these rolls at the last minute, as nori loses its crispness quickly.
1/2 cup (125 mL) chopped fresh ginger
2 cups (500 mL) water
1 large boneless, skinless chicken breast, cut in half
2 tbsp (25 mL) dry sherry or sake
SaIt
10 sheets nori (roasted seaweed)
One 6 oz (175 g) container of shredded pickled ginger
1 ripe avocado
1. Place ginger, water, chicken, sherry and salt in a saucepan and bring to a boil. Reduce heat and simmer gently for about 15 minutes until cooked. Turn chicken once during this time. Let cool in cooking liquid.
2. When cold, remove chicken from liquid and cut lengthwise into 1/2-inch (1-cm) slices. Cut each slice in half.
3. To make rolls: Place 1 sheet of nori on a flat surface. Put two slices of chicken end to end on the nori about 1-inch (2.5-cm) from the bottom of the sheet. Top with about 1 tbsp (15 mL) drained pickled ginger and two thin wedges of avocado. Roll tightly, then seal by brushing end of sheet with cold water. Using a wet knife, cut each roll into 4 pieces. Serve with Red Pepper or Coriander Dip.

Red Pepper Dip
This dip may thicken on standing. If you find it too thick, add a little warm water. Serve with Nori-wrapped Ginger Chicken.

1 roasted pepper, peeled and seeded
1 clove garlic, chopped
1 tsp (5 mL) Dijon mustard
½ cup (125 mL) yogurt
Salt and freshly ground pepper
1. Place pepper, garlic and mustard in food processor. Process until puréed. Add yogurt, blend and check seasoning.
Makes about 1 cup (250 mL)

Coriander Dip
Try to make this only a couple of hours before serving to maintain the colour. Serve with Nori-Wrapped Ginger Chicken.

2 cups (750 mL) lightly packed coriander leaves.
2 seeded, diced green chilies
1 clove garlic, chopped
1 tsp (5 mL) salt
2 tsp (10 mL) granulated sugar
Juice of half a lime
¼ cup (50 mL) water
1.  Place all ingredients in a food processor and blend until smooth.
Makes about 1 cup (250 mL)
SHARE