Noisette of Lamb with Cabernet Sauvignon Sauce
Early Summer 2010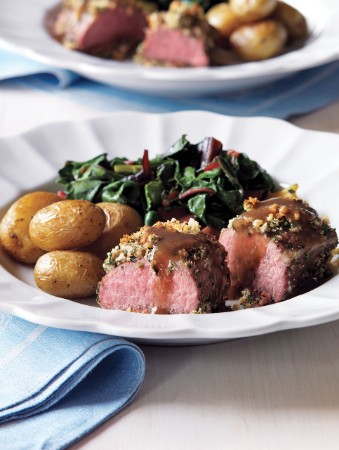 Noisette of Lamb with Cabernet Sauvignon Sauce
Early Summer 2010
BY: Lucy Waverman
The sweetness of lamb complements the richtones of Cabernet Sauvignon and the herbaltopping adds to the texture of the match. Servewith sautéed spinach or Swiss chard and miniroasted potatoes. A noisette is a small roundpiece of meat. To make your own ask the butcherto bone the lamb racks for you but keep thebones for the sauce.
2 racks of lamb

Sauce

2 tbsp (25 mL) olive oil
½ cup (125 mL) coarsely chopped onions
½ cup (125 mL) coarsely chopped shallots
½ cup (125 mL) coarsely chopped carrots
½ cup (125 mL) coarsely chopped celery
1 cup (250 mL) Cabernet Sauvignon
4 cups (1 L) chicken or beef stock
1 cup (250 mL) water

Herbed Topping

2 tbsp (25 mL) olive oil
Salt and freshly ground pepper
1 tsp (5 mL) garlic, chopped
1 cup (250 mL) fresh bread crumbs
2 tsp (10 mL) fresh thyme
1 tbsp (15 mL) chopped fresh chervil
2 tbsp (25 mL) chopped parsley
2 tbsp (25 mL) chopped fresh mint
1 tsp (5 mL) cracked fennel seeds
1. Remove bones from lamb racks (or have the butcher do it for you) and cut the bones into 2-bone sections.

2. Heat oil in a skillet or sauté pan over medium-high heat. Add bones and sauté until well browned, about 5 to 8 minutes. Add onions, shallots, carrots and celery and sautéuntil vegetables are browned on the edges, about 5 minutes. Add wine, bring to boil and boil until reduced to about ¼ cup (50 mL). Add stock and water and bring to boil. Reduce heat and simmer for 1 hour or until full of flavour and slightly thickened.

3. Strain and discard bones. Chill to remove any fat.

4. Preheat oven to 400°F (200°C).

5. Heat olive oil in a skillet over medium heat to make topping. Season lamb meat with salt and pepper and place in skillet. Brown lamb on both sides for about 2 minutes per side.Remove to a baking sheet.

6. Using the same skillet, add garlic and sautéfor 1 minute then stir in bread crumbs, thyme, chervil, parsley, mint and fennel seeds. Season with salt and pepper.

7. Pat bread crumb topping over lamb and season with salt and pepper. Place lamb in oven and bake for 10 to 15 minutes or until lamb is pink and bread crumbs are browned. Let rest for 5 minutes and reheat sauce.

8. Cut lamb into 4 pieces each and serve 2 pieces per person, drizzled with sauce.
SHARE