New York Sirloin Roast with Pinot & Marrow Sauce
Autumn 2016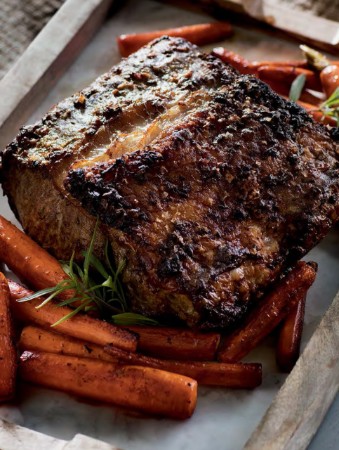 New York Sirloin Roast with Pinot & Marrow Sauce
Autumn 2016
BY: Lucy Waverman
Here's a spectacular Thanksgiving roast that always works splendidly. Easy to carve as it has no bone, and with a rich sauce to set it off, this is our family's favourite for special occasions. You could roast carrots underneath the meat if desired. Add them when the oven temperature goes down to 375°F (190°C). Freeze leftover marrow for another use. Marrow bones are available at butcher shops and frozen at some supermarkets. If not available, omit in all steps.
SAUCE
2 cups (500 mL) Pinot Noir
2 tbsp (30 mL) balsamic vinegar
¼ cup (60 mL) chopped shallots
3 cups (750 mL) beef or chicken stock
2 bone-marrow bones, if available
Salt and freshly ground pepper

MARINADE
¼ cup (60 mL) olive oil
2 tbsp (30 mL) dry mustard
2 tbsp (30 mL) Dijon mustard
2 tbsp (30 mL) crushed garlic
2 tbsp (30 mL) chopped fresh rosemary
2 tbsp (30 mL) soy sauce

1 New York sirloin roast, 5 lbs (2.2 kg)
Salt and freshly ground pepper
1 cup (250 mL) chicken or beef stock

THICKENER FOR SAUCE
1 tsp (5 mL) cornstarch mixed with 1 tbsp (15 mL) water
1 Heat wine, balsamic vinegar and shallots in a small pot. Bring to a boil and boil until reduced to about ¼ cup (60 mL), 18 to 20 minutes.Add stock and boil until reduced to about 1 cup (250 mL), 20 to 25 minutes. Reserve until needed.

2 Preheat oven to 425°F (220°C).

3 Lay bones, cut-side up, in a foil-lined roasting pan. Season with salt and pepper. Bake until bubbling and slightly browned, about 15 minutes. Scoop marrow from bones. Reserve in a dish and refrigerate. Discard foil and return bones to roasting pan, cut-side down.

4 Combine olive oil, dry mustard, Dijon mustard, garlic, rosemary and soy sauce. Season roast with salt and pepper, then brush marinadeall over the roast. Let rest for 30 minutes.

5 Raise oven temperature to 450°F (230°C).

Place roast on top of the marrow bones in roasting pan. Bake roast for 30 minutes or until outside is a rich brown.

6 Reduce heat to 375°F (190°C) and bake another 45 minutes to an hour or until roast is rare to medium-rare, 140°F (60°C) on a thermometer. Let rest for 10 minutes. The meat will continue cooking as it rests.

7 Drain fat from roasting pan and discard bones. Add 1 cup (250 mL) stock to pan. Over medium heat, stir the stock into the brown bits at the base of the pan. When everything is absorbed, pour reserved sauce into roasting pan and stir to boil. Stir in cornstarch mixture and boil, stirring, for a minute or until slightly thickened. Turn off heat and stir in 1 to 2 tbsp (15 to 30 mL) bone marrow. Sauce will be flecked with marrow.

8 Carve roast into ¼-inch-thick (5-mm) slices and serve with sauce, Garlic Butter Popovers and Brussels Sprouts with Dates (recipes follow).
GARLIC BUTTER POPOVERS
Who doesn't like eggy, sky-high popovers? I originally had these incredibly good ones at Jacob's Steakhouse in Toronto. They gave me the recipe and, with a little reworking, here it is for you. For best results, follow the timing exactly. Even if they look ready earlier, leave them in.

ROASTED GARLIC BUTTER
½ cup (125 mL) butter, softened
2 tbsp (30 mL) roasted garlic
1 tsp (5 mL) chopped fresh thyme

POPOVERS
2 cups (500 mL) milk
2 tbsp (30 mL) butter
2 cups (500 mL) flour
1½ tsp (7 mL) salt
4 eggs beaten
1 Combine butter with roasted garlic and thyme. Reserve near the stove to keep the butter soft.

2 Preheat oven to 375°F (190°C).

3 Place muffin tin on top of a baking sheet in the lower third of the oven. Leave for 10 minutes to heat the cups.

4 Heat milk and butter until warm but not boiling. Mix flour and salt in a large bowl. Make a well in the centre and pour in beaten eggs. Gradually whisk warmed milk mixture into eggs, working from centre out to edges to incorporate flour into liquid. Whisk thoroughly until batter is smooth. Strain through a fine sieve into a jug.

5 Pull out baking sheet from oven and spray muffin cups with cooking oil. Pour batter into each cup, filling to top. Fill any unused muffin cups halfway with water to create extra steam in the oven.

6 Bake for 25 minutes. Rotate tin in oven and bake for another 22 minutes or until brown and practically doubled in size. Remove from oven and carefully lift popovers out of tin while still hot.

7 Brush roasted garlic butter over popovers. Serve quickly.
BRUSSELS SPROUTS WITH DATES
A truly great Brussels sprouts dish. The sweetness of the dates contrasts with the sprouts. Using the oyster sauce gives a richness to the dish, too. This reheats well but there is usually none left over.

2 lbs (1 kg) Brussels sprouts, trimmed
2 tbsp (30 mL) olive oil
4 tsp (20 mL) chopped garlic
1 cup (250 mL) dried dates, pitted, cut in half lengthwise
¼ cup (60 mL) oyster sauce
2 tbsp (30 mL) water
2 tbsp (30 mL) butter
1 Cut Brussels sprouts in half lengthwise. Bring a pot of water to boil and add sprouts. Bring back to boil and boil for 1 minute. Drain and refresh with cold water until fully cool. Drain again and pat dry.

2 Heat oil in a wide skillet or sauté pan over high heat. Add half the sprouts, cut-side down, and cook, stirring occasionally, until browned, about 5 minutes. Spoon into a bowl and reserve. Repeat with remaining sprouts, adding more oil if needed. Return all Brussels sprouts to pan and add garlic. Toss well and cook for 1 minute. Stir in dates, oyster sauce and water. Bring to boil, remove from heat and add butter, stirring until sauce coats vegetables.
SHARE