New World Empanadas
Early Summer 2008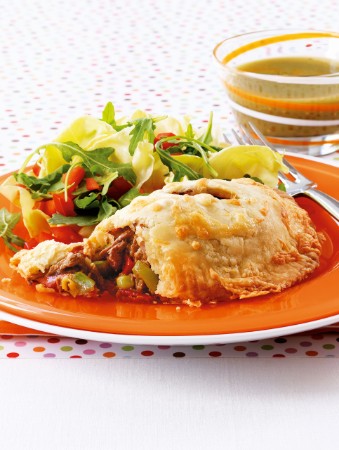 New World Empanadas
Early Summer 2008
BY: Marilyn Bentz-Crowley
Innovative fillings for these hand-pies are rife in the Caribbean and South America―and are now spreading north! Serve empanadas for supper, generally allowing 2 per person, with a green salad tossed with zingy vinaigrette. With excellent flaky pastry, these empanadas also make a hearty snack or terrific picnic fare.
Pastry
2 cups (500 mL) all-purpose flour
¼ cup (50 mL) cake and pastry flour
½ tsp (2 mL) salt
½ cup (125 mL) cold salted butter
1 cold egg
⅓ cup (75 mL) ice-cold water
1 tbsp (15 mL) white vinegar

Filling
1 lb (500 g) lean "simmering" steak, such as outside round
2 tbsp (25 mL) olive oil, divided
¾ cup (175 mL) beef broth or stock
¾ cup (175 mL) green tomatillo salsa
1 medium leek
4 large plum tomatoes
1 to 2 large jalapeño peppers, roasted (see Tip)
2 cloves garlic, minced
¼ tsp (1 mL) salt
1 cup (250 mL) sliced sugar snap or fresh shelled peas
½ cup (125 mL) grated Monterey Jack cheese
1. Stir flours with salt. Grate cold butter into flour or use a pastry cutter to form small pieces. Stir egg with water and vinegar. Add all at once to flour mixture; stir with a fork until almost together. Then using your hands, squeeze firmly together until dough forms. Flatten into a thick disc; cut into 8 wedges. Gently form each wedge into a flat thick disc; place in a plastic bag. Refrigerate for at least 1 hour or up to a day.

2. Trim any fat from steak; discard. Heat 1 tbsp (15 mL) oil in a large frying pan over medium-high heat. Add steak; sear for 3 to 4 minutes on each side, or until browned. Add stock and salsa; bring to a boil. Cover and reduce heat so mixture simmers for 30 minutes. Check for liquid, adding more stock if needed; continue simmering for another 30 to 45 minutes or until beef pulls apart when using 2 forks.

3. Trim leeks to use only light green and white areas; cut in half lengthwise. Wash carefully under cold running water to rid layers of any sand. Drain; then very thinly slice. Seed and dice tomatoes; keep separate. Peel and seed jalapeño; mince.

4. Remove from heat; pull beef apart with 2 forks. Transfer to a bowl with remaining liquid. Heat remaining 1 tbsp (15 mL) oil in same frying pan over medium heat. Add leeks and garlic; sauté 2 to 3 minutes or until leeks are bright green. Add tomatoes, jalapeño and salt; cook 3 to 4 minutes or until hot and tomatoes have softened. Stir in peas; immediately add to beef. Mixture should be thick and moist; if needed, stir in 1 to 2 tbsp (15 to 25 mL) salsa, as needed. Cool completely or cover and refrigerate for up to a day. (Cold filling and cold pastry are easier to handle.)

5. Preheat oven to 425°F (220°C).

6. Roll out each pastry piece into a 7-inch (18-cm) circle. Place ½ cup (125 mL) mixture in centre, well in from pastry edge. Spread out slightly into a half-circle shape on 1 side leaving at least a 1-inch (2.5-cm) border. Moisten edges of dough with water; fold over pastry. Crimp edges with a fork; make a small slash in top. (Empanadas have only a slight loss of quality if spread out on a tray and frozen flat; then transfer to a heavy freezer bag.)

7. Place empanadas slightly apart on a baking tray lined with parchment or a piece of foil coated with nonstick spray. (Bake frozen empanadas right from freezer; add 10 minutes to baking time.) Sprinkle cheese on pastry. Bake 20 minutes or until golden. Serve hot, warm or at room temperature. Pass extra tomatillo salsa.

Tip: A simple way to roast a limited amount of hot or sweet peppers is to "toast" in a toaster oven for a full cycle. Turn pepper a quarter turn and toast again; repeat if necessary to deeply brown skins. Cool before peeling and seeding.
SHARE