New Carrot & Fennel Soup with Watercress
Spring 2010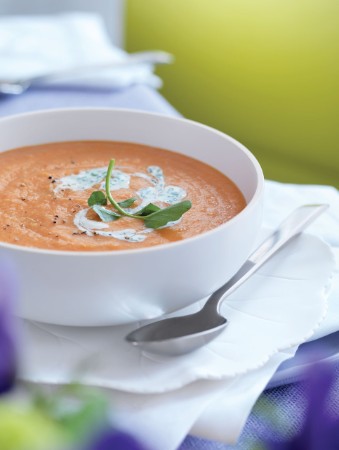 New Carrot & Fennel Soup with Watercress
Spring 2010
BY: Marilyn Bentz-Crowley
Crisp new carrots in bags or bunches appear around the March equinox and are a very welcome relief from often woody storage carrots. This soup is thickened with oats making it quite creamy while peppery watercress keeps it from being bland.
1 tbsp (15 mL) butter
1 large stalk celery, sliced
1 medium onion, sliced
2 cloves garlic
4 to 5 cups (1 to 1.25 L) sliced crisp carrots, about 1½ lbs (750 g)
1 fennel bulb, white part only sliced
½ cup (125 mL) quick-cooking oatmeal
5 to 6 cups (1.25 to 1.5 L) chicken broth or stock
¼ tsp (1 mL) salt
¼ tsp (1 mL) freshly ground black pepper
1 cup (250 mL) whipping cream
1 bunch watercress
1. Heat butter in a large pot or saucepan over medium heat until bubbly. Add celery, onion and garlic; stirring occasionally, cook 5 minutes.Add carrots, fennel, oats and 5 cups (1.25 L) broth.

2. Bring to a boil; cover and reduce heat to low. Simmer 20 to 25 minutes or until all vegetables are very tender. Then purée soup in a blender or with an immersion blender. (Soup can be covered and refrigerated for 3 days or more.)

3. Return soup to pot; add salt and pepper and reheat. Adjust thickness with remaining broth and taste for additional seasoning as needed.

4. For garnish, bring whipping cream to a boil in a small pot over medium-high heat. Let bubble until reduced by half. Meanwhile, very finely chop watercress; stir into cream. Remove from heat.

5. To serve, generously ladle soup into warmed serving bowls. Decoratively drizzle with some watercress mixture. Garnish with sprig of watercress, if desired.
SHARE