Napa Coleslaw with Buttermilk Dressing and Avocado
Début de l'été 2005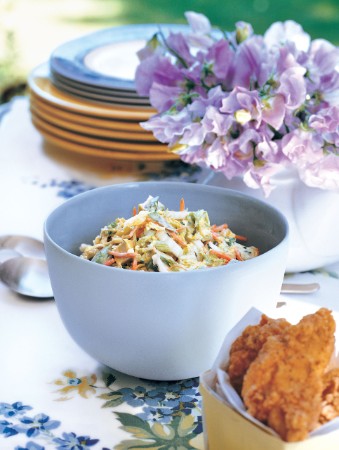 Napa Coleslaw with Buttermilk Dressing and Avocado
Début de l'été 2005
BY: Marilyn Bentz-Crowley
This creamy slaw is just a little different with lively freshness punctuated by a hit of avocado smoothness.
10 cups (2.5 L) very thinly sliced napa or green cabbage
2 carrots, julienned
2 to 3 green onions, thinly sliced
½ cup (125 mL) buttermilk or sour cream
½ cup (125 mL) mayonnaise
1 garlic clove, minced
2 tsp (10 mL) freshly squeezed lemon juice
1 tsp (5 mL) Dijon mustard
½ tsp (2 mL) salt
¼ tsp (1 mL) freshly ground black pepper
3 to 4 tbsp (45 to 60 mL) finely chopped fresh basil
1 ripe avocado
1. Toss cabbage with carrots and green onions. Slowly whisk buttermilk into mayonnaise; then stir in garlic, lemon juice, mustard, salt and pepper until well mixed. Stir in basil.

2. Pour dressing over cabbage; lightly toss until well mixed. Cover and refrigerate up to a day ahead. When ready to serve, peel, seed and dice avocado; stir into coleslaw.
SHARE