Napa & Green Cabbage Rolls
Autumn 2017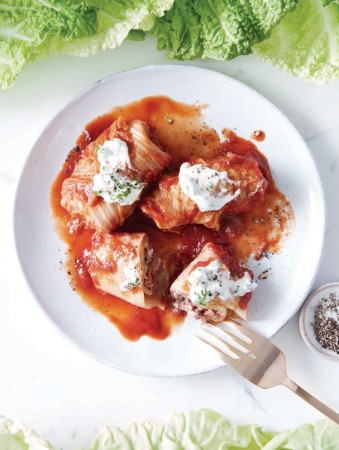 Napa & Green Cabbage Rolls
Autumn 2017
BY: Amy Rosen
What's red and green and sweet and sour? A classic dish from the old country (in this case, Poland) that has stood the test of time. Including both green and napa cabbage leaves make for a subtle update, and a dollop of chive sour cream never hurt anyone.
ROLLS
1 small green cabbage
1 small napa cabbage

SAUCE
1 can (796 mL) crushed tomatoes
1 bottle (455 mL) chili sauce (such as Heinz)
¼ cup (60 mL) brown sugar
¼ cup (60 mL) runny honey
1 tbsp (15 mL) Worcestershire sauce
3 tbsp (45 mL) red wine vinegar
Juice of 1 lemon

FILLING
1 lb (500 g) lean ground beef
½ cup (125 mL) raw long-grain white rice
½ tsp (2 mL) salt
¼ tsp (1 mL) freshly cracked pepper
½ tsp (2 mL) garlic powder
¼ tsp (1 mL) chili flakes
1 tbsp (15 mL) Worcestershire sauce
1 egg, beaten

CHIVE SOUR CREAM
½ cup (125 mL) full-fat sour cream
2 tbsp (30 mL) snipped fresh chives
1. Preheat oven to 350°F (180°C). Move racks so that there's enough room for a large covered pot to fit in the centre of the oven.

2. Core both cabbages and place heads in a large pot with a few inches of boiling water in the bottom. Cover and steam until leaves separate easily, about 5 to 10 minutes. When cool enough to touch, carefully separate leaves and drain on kitchen towels.

3. To a large ovenproof pot with a lid, add all ingredients for sauce; stir to combine. Bring to a boil then lower heat and simmer, covered, for 20 minutes, stirring now and then.

4. Combine ingredients for filling and mix well. (Your hands are the best tool for this.) Place a heaped soup spoon of filling in the centre of each green leaf, then tuck in sides and roll up, burrito style. For napa cabbage, slightly overlap 2 leaves then fill as per green cabbage leaves. Place each, seam-side down, into sauce. Keep tucking and rolling and placing into sauce until all the beef mixture is gone. Cover pot and place in preheated oven for an hour or until tender and cooked through.

5. Just before bringing your burbling pot to the table, stir together sour cream and chives in a small bowl and let guests dollop as they wish.
SHARE