Mustardy Roast Salmon Fillets
Spring 2020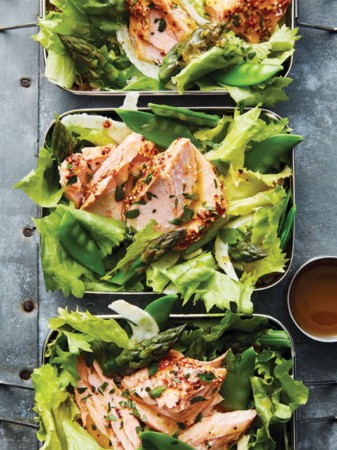 Mustardy Roast Salmon Fillets
Spring 2020
BY: Eshun Mott
Sweet and savoury, this salmon makes a moist and flavourful addition to any lunch.
1 lb (455 g) salmon fillet
2 tbsp (30 mL) sweet Thai chili sauce 1 tbsp (15 mL) grainy mustard
¼ tsp (1 mL) Sriracha
1 tsp (5 mL) grated garlic Salt
1 Preheat oven to 425°F (220°C). Line a baking sheet with Cut salmon into 3 equal-sized pieces, and place on foil skin-side down.
2 Combine chili sauce, mustard, Sriracha and garlic and generously coat Season with salt. Bake for 10 to 15 minutes or until salmon begins to flake when you press down on it.
SHARE