Mustard-Crusted Rack of Venison with Redcurrant Balsamic Butter
Autumn 2013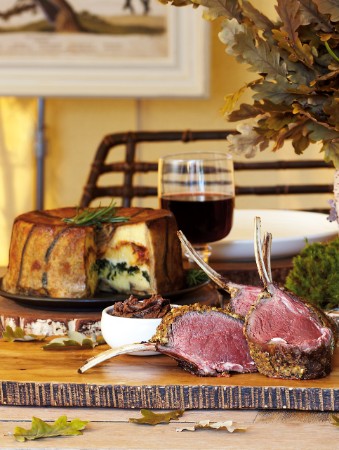 Mustard-Crusted Rack of Venison with Redcurrant Balsamic Butter
Autumn 2013
BY: Christopher St. Onge
Farmed venison is available from specialty butchers, though it may need to be ordered ahead of time. Ask your butcher to french the bones and trim the racks of any fat and silverskin. Serve alongside braised or sautéed leeks.
REDCURRANT BALSAMIC BUTTER
3 tbsp (45 mL) balsamic vinegar
2 tbsp (30 mL) redcurrant jelly
½ cup (125 mL) butter (1 stick), softened
1 tbsp (15 mL) chopped thyme
1 tsp (5 mL) coarsely ground pepper

MUSTARD CRUST
¼ cup (60 mL) grainy mustard
¼ cup (60 mL) Dijon mustard
2 cloves garlic, finely chopped
1 tbsp (15 mL) chopped thyme
1 tbsp (15 mL) fine dry bread crumbs
2 racks of venison, each 6 ribs, about 4 lbs (2 kg) total weight
Salt and freshly ground pepper
1 For the redcurrant balsamic butter, heat balsamic vinegar in a small saucepan over medium heat. Bring to a boil and reduce to 1 tbsp (15 mL). Remove from heat, stir in redcurrant jelly and allow to cool to room temperature (mixture will be quite thick). Combine balsamic mixture with butter in a food processor; pulse to combine. Stir in thyme and pepper. Place in a small ramekin, cover and, if using right away, leave at room temperature. (Otherwise refrigerate and return to room temperature before serving).

2 To make mustard crust, combine all ingredients in a small bowl; stir to blend.

3 Preheat one side of barbecue to high.

4 Season venison with salt and pepper. Brown racks on all sides, about 5 minutes total; remove to a cutting board.

5 Reduce grill to low (leave one side turned off), close lid and heat to 300°F (150°C).

6 When cool enough to handle, rub racks with a thin layer of mustard mixture (do not cover bones). Return to indirect heat, close barbecue lid and cook for 30 to 35 minutes for medium-rare. Allow to rest, loosely covered with foil, for 10 minutes.

7 Slice racks into 2-bone chops and top each with 1 tbsp (15 mL) redcurrant balsamic butter.
SHARE