Mustard Herb Prime Rib Roast with Red Wine Gravy
Holiday 2013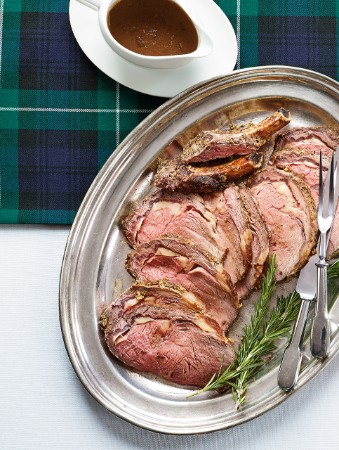 Mustard Herb Prime Rib Roast with Red Wine Gravy
Holiday 2013
BY: Jennifer MacKenzie
Once you master making the perfect oven roast, you'll wonder why you didn't learn how to do it sooner. A prime rib roast is very forgiving because of the fat layer that keeps the meat moist and the wonderful drippings it offers for the gravy. A good meat thermometer is a must to make sure you don't overcook it (or undercook it!). The probe type with a digital read-out is the easiest to use since you can watch the temperature rise as it cooks and time the rest of the meal accordingly. The temperature of the roast will increase as it rests so remove from the oven about 5°F (3°C) before your ideal doneness temperature. Be sure to use a wine that you enjoy drinking from the glass (not one you've decided you don't like so you'll cook with it) and a good quality beef stock for the best gravy. For easy carving, ask your butcher to cut the ribs from the roast, then tie them back on for flavourful roasting. If that's not possible, use the sharpest knife you have with a narrow blade and follow the slicing directions.
1 beef prime rib premium oven roast (bone-in), 5 lbs (2.2 kg)
½ cup (125 mL) Dijon mustard
2 cloves garlic, minced
2 tbsp (30 mL) chopped fresh rosemary, or 2 tsp (10 mL) dried
1 tsp (5 mL) chopped fresh thyme, or ¼ tsp (1 mL) dried
1 tsp (5 mL) salt
1 tsp (5 mL) coarsely ground pepper

RED WINE GRAVY
1 tbsp (15 mL) vegetable oil or butter (optional)
1 small onion, finely chopped
3 tbsp (45 mL) all-purpose flour
½ cup (125 mL) dry full-bodied red wine
2½ cups (625 mL) beef stock
1 tsp (5 mL) Dijon mustard
Salt and freshly ground pepper to taste
1 Preheat oven to 450°F (230°C).

2 Place roast, rib-side down, on a rack in roasting pan. It is best to have at least 2 inches (5 cm) of space between the roast and the sides of the pan. Combine mustard, garlic, rosemary, thyme, salt and pepper in a small bowl. Spread over top and sides of roast with a spatula. Insert the probe of a meat thermometer so the tip is in the centre of the thickest part of the meat without touching bone.

3 Roast for 10 minutes.

4 Turn heat down to 275°F (140°C).

5 Roast for 3 to 3½ hours or until meat thermometer reads 135°F (57°C) for medium-rare, 4 hours or until meat thermometer reads 145°F (62°C) for medium, or until desired doneness. Place roast, rib-side down, on a cutting board with a juice trough and cover loosely with a large piece of foil to "tent" for 20 minutes.

6 To make gravy, place roasting pan over medium heat and heat until fat is sizzling, adding vegetable oil if pan is dry (if your roasting pan is coated and not safe for the stovetop, scrape all drippings from the pan into a wide saucepan and use it to make gravy). Sauté onion for about 3 minutes or until soft. Sprinkle with flour and cook while whisking to make sure flour is incorporated with the fat, for 1 minute. Gradually pour in wine, while whisking. Gradually pour in stock and mustard, while whisking to prevent lumps, until incorporated. Pour in any accumulated juices from the cutting board, if desired. Bring to a boil, whisking often. Reduce heat and simmer, whisking often, for about 10 minutes or until thickened and reduced to desired consistency. Season to taste with salt and pepper. Reduce heat to low to keep hot while you slice the roast, then transfer to a warmed gravy boat.

7 To slice roast, cut strings from the roast and discard. If butcher did not cut ribs from roast, holding the knife parallel to the cutting board and, inserting a large fork in the top of the roast to anchor it, start at one end of the ribs (where the cut portion of the rib shows) and use a gentle sawing motion to cut between the roast and the ribs, keeping the knife as close to the rib bones as possible. Lift the roast off the rack of ribs and place directly on the cutting board. Cut the roast into thin slices, starting from one outside edge of the large round surface to cut across the grain. Cut between each rib and serve alongside the sliced meat, or reserve for soup. Place roast beef on a warmed serving platter and serve with hot gravy.
SHARE