Mustard Glazed Standing Rib Roast with Pinot Noir, Balsamic Sauce
Holiday 2000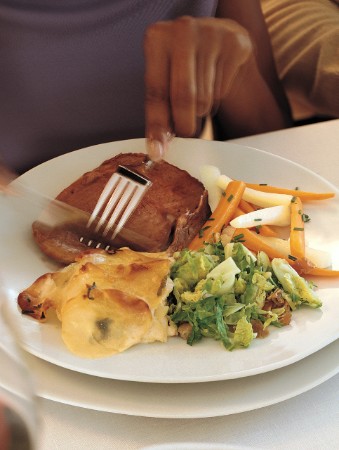 Mustard Glazed Standing Rib Roast with Pinot Noir, Balsamic Sauce
Holiday 2000
BY: Lucy Waverman
The secret to a great rib roast is to buy great meat. Look for marbled aged meat, Triple-A prime Canadian or Angus beef. Have the butcher remove the chine bone. For easier carving, remove meat from the rib bones and tie it back on. When serving, cut the strings, remove the meat, slice it down and add a bone to bone lovers' plates.
1/2 cup (125 mL) Dijon mustard
2 tbsp (25 mL) olive oil
4 cloves garlic, chopped
2 tbsp (25 mL) chopped parsley
1 tbsp (15 mL) coarsely ground black pepper
2 tbsp (25 mL) soy sauce
2 tbsp (25 mL) chopped fresh rosemary or thyme or
2 tsp (10 mL) dried
1 8 lb (3.5 kg) standing rib roast

Sauce
1/4 cup (50 mL) butter
1 cup (250 mL) coarsely chopped shallots
1/2 cup (125 mL) coarsely chopped carrots
1/2 cup (125 mL) coarsely chopped celery
1/4 cup (50 mL) sliced garlic
1 750 mL bottle Pinot Noir
1/4 cup (50 mL) balsamic vinegar
4 cups (1 L) beef or chicken stock
2 tbsp (25 mL) tomato paste
4 parsley stalks
Pinch dried thyme
1 bay leaf
1. Combine mustard, olive oil, garlic, parsley, pepper, soy sauce and thyme in a bowl. Brush over roast. Let sit for 2 hours or overnight refrigerated.

2. Preheat oven to 450°F (230°C). Turn on broiler. Place roast, fat side up, on rack in roasting pan and broil about 4 minutes or until top is brown. Turn off broiler and continue to bake at 450°F (230°C) for 30 minutes.

3. Reduce heat to 350°F (180°C) and bake 2 hours longer for medium-rare or until desired degree of doneness. Remove roast to carving board and let rest for 10 minutes. Cut strings and remove from bones. Carve down into thin slices. Serve with sauce.

4. While roast is cooking, add butter to pot on medium heat. Add shallots, carrots, celery and garlic and cook until they are brown on the edges, about 7 minutes. Add wine and vinegar and bring to boil. Boil 20 minutes or until wine is reduced by two-thirds. Add stock, tomato paste, parsley, thyme and bay leaf. Bring to boil and simmer for 20 to 30 minutes or until slightly thickened. Strain, pressing down on solids and return to pot. Reheat when needed.
SHARE