Mustard & Rosemary Lamb Chops with Red Wine Drizzle
Holiday 2015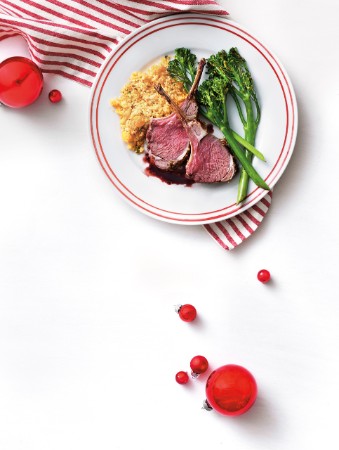 Mustard & Rosemary Lamb Chops with Red Wine Drizzle
Holiday 2015
BY: Eshun Mott
Take your lamb out of the fridge and let it come to room temperature while you prep dinner so that it will cook to the right temperature in the suggested time. If you've never cut a rack of lamb into chops, look at the bones on the underside and use a sharp knife to cut between them.
2 racks of lamb, 1¼ lbs (625 g) each, (about 8 chops each)
2 tbsp (30 mL) fresh rosemary
4 medium cloves garlic, peeled
1 tsp (5 mL) kosher salt
1 tsp (5 mL) black peppercorns
2 tbsp (30 mL) grainy Dijon mustard
1 tbsp (15 mL) olive oil

SAUCE
1 cup (250 mL) medium-bodied red wine
1 tbsp (15 mL) balsamic vinegar
1 tbsp (15 mL) sugar
1 tbsp (15 mL) unsalted butter, cut into 4 pieces
Pinch salt
1. Preheat oven to 450°F (230°C).

2. Pat lamb dry with paper towels.

3. Combine rosemary, garlic, salt and pepper in the bowl of a mini food processor and pulse until chopped. Scrape down the sides, add mustard and olive oil and pulse until you have a coarse paste. Spread all over lamb.

4. Place lamb, fat-side up, in a metal roasting pan big enough to hold both racks in a single layer in the oven. Roast for 10 minutes or until fat side is nicely browned, then reduce the temperature to 400°F (200°C) and roast 18 to 20 minutes longer or until lamb is golden brown all over and an instant-read thermometer tells you the internal temperature is about 125°F (52°C) for medium-rare (the lamb will continue to cook slightly as it rests). Remove from oven, transfer lamb to a plate, cover loosely with a piece of foil and let stand 5 to 10 minutes.

5. For sauce, combine wine, balsamic vinegar and sugar in a medium pot over medium high heat. Bring to a boil, stirring to dissolve sugar, and boil for 10 to 12 minutes or until it is reduced by more than half and is slightly thickened. Remove from heat. Just before serving, add cubed butter and warm sauce over low heat, swirling pot until butter is just melted and incorporated. Season with a pinch of salt.

6. Cut lamb between the ribs into individual chops and serve with a drizzle of sauce.


SHARE