Mussels with Chervil, Parsley and Chives
Printemps 2001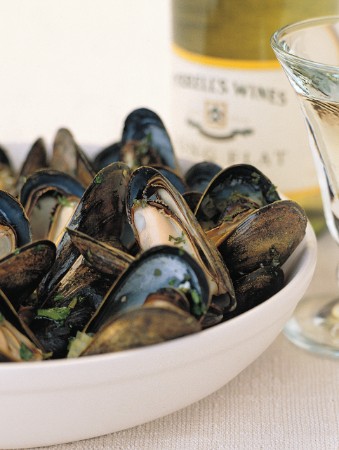 Mussels with Chervil, Parsley and Chives
Printemps 2001
BY: Lucy Waverman
The traditional French recipe for cooking mussels. This is a light main course or substantial first course. Try serving them with French fries for a truly incredible meal!
1 cup (250 mL) finely chopped onion
1/2 cup (125 mL) finely chopped celery
2 tbsp (25 mL) finely chopped garlic
2 tbsp (25 mL) chopped fresh chervil
1/4 cup (50 mL) chopped fresh parsley
2 tbsp (25 mL) chopped chives
2 cups (500 mL) fruity white wine
2 lbs (900 g) mussels
Pepper to taste
1/4 cup (50 mL) butter
1. In a large saucepan, combine onions, celery, garlic, chervil, 2 tbsp (25 mL) parsley, chives and white wine. Bring to boil.
2. Add mussels, cover and steam, shaking pan occasionally until mussels open, about three minutes. Any mussels that do not open, discard. Remove mussels to a bowl. Simmer sauce for two minutes. Taste for seasoning, adding pepper as needed.
3. Swirl in butter and pour sauce into four bowls. Add mussels, sprinkle with remaining parsley and serve immediately.
SHARE