Mussels With Tapenade Vinaigrette
Early Summer 2002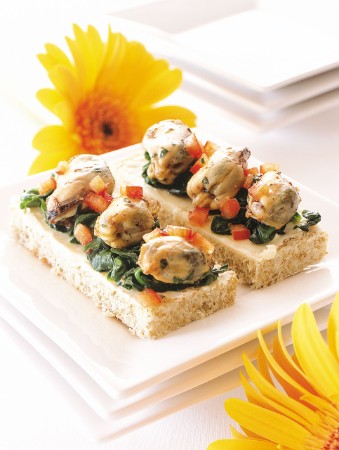 Mussels With Tapenade Vinaigrette
Early Summer 2002
BY: Lucy Waverman
This full-flavoured sandwich also looks wonderfully dramatic. You could substitute shrimp for the mussels, if desired. Tapenade is made from olives, anchovies and capers.
1/2 cup (125 mL) white wine
2 lb (1 kg) mussels
8 oz (250 g) shredded spinach

Vinaigrette
1 tbsp (15 mL) tapenade
1 tbsp (15 mL) lemon juice
1 tsp (5 mL) grated lemon rind
2 tbsp (25 mL) olive oil
1 tbsp (15 mL) chopped parsley
1 tbsp (15 mL) chopped chives
Pepper to taste
6 slices brown bread, crusts removed
1/4 cup (50 mL) soft butter
1/4 cup (50 mL.) finely diced red pepper
1. Place white wine in a wide large pot on high heat and bring to a boil. Add mussels and steam until they open, about 2 to 3 minutes. Remove mussels as they open. Discard any that do not open. Reserve pot with liquid in it. Cool mussels and remove from shells. Pour any mussel juice back into pot.
2. Place pot on medium heat. Add spinach and cook for 3 to 4 minutes or until spinach is wilted. Remove spinach from juices with tongs. Cool spinach and squeeze out any liquid.
3. Reduce remaining liquid in pot until about 2 tbsp (25 mL) remains. Mix liquid with tapenade, lemon juice, lemon rind, olive oil, parsley and chives. Add pepper to taste. Toss with mussels. Let mussels marinate at least one hour or overnight refrigerated.
4. Spread bread with butter. Cut slices in half. Top each half with about 1 tbsp (15 mL) spinach. Drain mussels from marinade. Lay 3 mussels on top of each slice of bread. Decorate with diced red pepper.
SHARE