Mushrooms with Spicy Spanish Sauce
Été 2008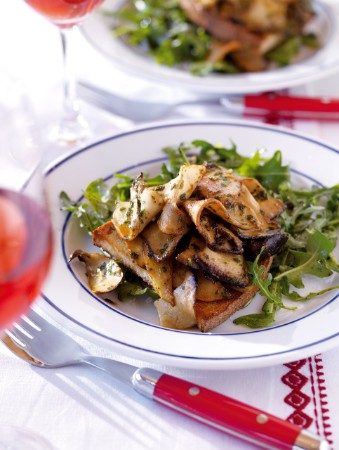 Mushrooms with Spicy Spanish Sauce
Été 2008
BY: Lucy Waverman
An intriguing dish to serve either as a first course or as a vegetarian main. This bold red sauce will add texture and flavour to the mushrooms. If king oyster mushrooms are not available, use a mixture of mushrooms that you like. Using anchovies as flavouring is an integral part of Spanish cooking.
Spanish Sauce
4 anchovy fillets
2 tsp (10 mL) chopped garlic
1 tsp (5 mL) hot smoked Spanish paprika
1 cup (250 mL) packed parsley leaves
¼ cup (50 mL) olive oil
2 tbsp (25 mL) water

Mushrooms
2 tbsp (25 mL) olive oil
1 lb (500 g) king oyster mushrooms, thinly sliced
Salt and freshly ground pepper

4 slices Portuguese cornbread or sourdough loaf

Salad
6 cups (1.5 L) packed baby arugula
1 tsp (5 mL) balsamic vinegar
1 tbsp (15 mL) olive oil
Maldon salt for garnish
1. Add anchovies, garlic, paprika, parsley and olive oil to food processor or mini-chop and pulse to combine. (Add water if needed to process until mixture resembles pesto.) Reserve.

2. Heat a large skillet over high heat. Add oil then mushrooms and sauté until mushrooms have softened and are turning golden, about 3 to 5 minutes. Reduce heat to medium-low and stir in Spanish sauce. Cook together until sauce is hot. Remove from heat and season to taste with salt and pepper.

3. Toast bread and place on individual serving plates. Brush with any sauce left in skillet. Divide mushroom mixture into 4 and heap onto toast. Toss arugula with balsamic and olive oil and surround toasts with salad. Sprinkle everything with a little Maldon salt.
SHARE