Mushroom Risotto
Autumn 2001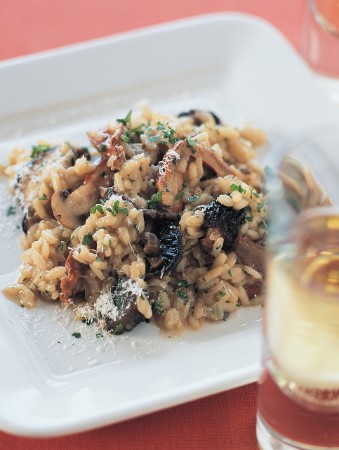 Mushroom Risotto
Autumn 2001
BY: Lucy Waverman
A classic risotto that makes an excellent first course before a light fish or meat main course.
½ cup (125 mL) dried porcini mushrooms
1 cup (250 mL) boiling water
8 oz (250 g) fresh mixed wild mushrooms
2 tbsp (25 mL) olive oil
2 tbsp (25 mL) butter
1 tsp (5 mL) chopped garlic
Salt and freshly ground pepper
2 tbsp (25 mL) chopped parsley

Risotto
5 cups (1.25 L) chicken stock, approximately
2 tbsp (25 mL) olive oil
2 tbsp (25 mL) butter
½ cup (125 mL) finely chopped onion
1 ½ cups (375 mL) Carnaroli rice
½ cup (125 mL) white wine
1/3 cup (75 mL) Parmesan cheese
Salt and freshly ground pepper
1. Place dried porcini mushrooms in a bowl and pour over boiling water. Let sit for 30 minutes. Strain liquid into a bowl, chop mushrooms and reserve liquid and mushrooms together.

2. Remove stems from fresh mixed mushrooms and discard. Slice mushrooms. Heat oil and butter in skillet over medium-high heat. Add garlic and sliced mushrooms. Sauté until mushrooms are tender, about 3 minutes. Season with salt, pepper and chopped parsley. Leave in skillet to reheat.

3. For risotto, bring stock to simmer on stove. Heat oil and 1 tbsp (15 mL) butter in a heavy pot on medium heat. Add onions and sauté for 3 minutes or until softened. Add rice and sauté until rice is coated with oil.

4. Pour in wine and cook until wine is absorbed. Stir in mushroom soaking liquid and dried mushrooms and cook, stirring until most of liquid is absorbed. Add 1 cup (250 mL) stock, stirring until most of stock is absorbed. Continue to add stock in 1 cup (250 mL) quantities, stirring most of the time until rice is creamy with a slight bite in the centre, about 18 to 20 minutes. Reheat and stir in mushroom mixture a few minutes before rice is cooked.

5. Remove from heat. Stir in remaining butter and Parmesan cheese. Season well with salt and pepper. Serve immediately.
SHARE