Mushroom Beef Roll-ups
Automne 2009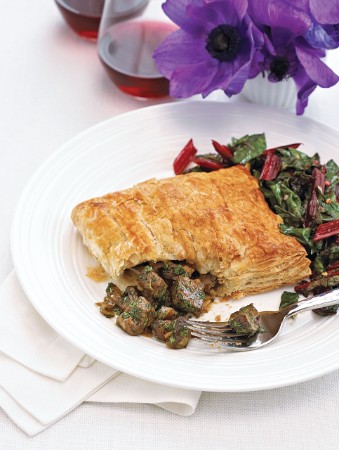 Mushroom Beef Roll-ups
Automne 2009
BY: Emily Richards
Serving individual packages to your guests makes dinner extra special. They get to open their own "present" at the table. Filled with juicy mushrooms and tender steak, this make-ahead main will become an easy favourite.
2 strip-loin steaks, about 1 lb (500 g) total
Salt and freshly ground pepper
2 tbsp (25 mL) canola oil
1 lb (500 g) cremini mushrooms, quartered
1 onion, chopped, or leek, white and light green part only, thinly sliced
3 cloves garlic, minced
1 tsp (5 mL) dried Italian herb seasoning or herbes de Provence
1 tbsp (15 mL) Worcestershire sauce
¼ cup (50 mL) chopped fresh Italian parsley
1 pkg (450 g) frozen butter puff pastry sheets
1 egg, lightly beaten
1.  Trim visible fat from steaks and discard. Cut steak into ½-inch (1-cm) pieces and sprinkle with salt and pepper.

2 Heat 1 tbsp (15 mL) of the oil over medium-high heat in large nonstick skillet, and brown the steak. Remove to plate.

3.  Return skillet to medium-high heat and add remaining oil. Cook mushrooms, onion, garlic and Italian herb seasoning, stirring
for about 10 minutes or until golden and liquid has evaporated.

4.  Add beef, discarding any accumulated juices, and Worcestershire sauce and cook for 1 minute. Stir in parsley until combined.
Season to taste with salt and pepper. Let cool to room temperature.

5.  Preheat oven to 425°F (220°C).

6.  Unroll puff pastry and cut each sheet in half on the diagonal to make 4 triangles. Divide mixture evenly on centre of each triangle. Brush edges with some of the egg. Bring 2 of the corners to centre to meet last corner and form a square. Pinch seams to seal. Repeat with remaining bundles. Carefully transfer, seam-side down, to parchment- paper-lined baking sheet.

7.  Brush each bundle with egg and bake in centre for about 25 minutes or until golden brown. Serve with Sautéed Red Swiss Chard
(recipe below).

Mushroom Beef Roll-Ups: Cut each pastry sheet in half and place filling lengthwise along centre. Fold short ends in and roll up,
pinching seam to seal.

Sautéed Red Swiss Chard
With a sharp zing of garlic and zip of heat from the hot pepper flakes, this is a great side dish for the Mushroom Beef Bundles. Tender-crisp Swiss chard adds colour and texture to your dinner plate.

1 bunch red Swiss chard, trimmed
2 tbsp (25 mL) canola oil
4 cloves garlic, minced
½ tsp (2 mL) hot pepper flakes
Salt
1. Slice stem end of Swiss chard into 1-inch(2.5-cm) slices. Slice leaves into slightly larger pieces; set aside.

2 Heat oil in large nonstick skillet over medium heat. Add Swiss chard, garlic and hot pepper flakes and sauté for about 10 minutes or until wilted and tender-crisp. Season to taste with salt.
SHARE