Mushroom & Cauliflower Soup Gratinée
Autumn 2015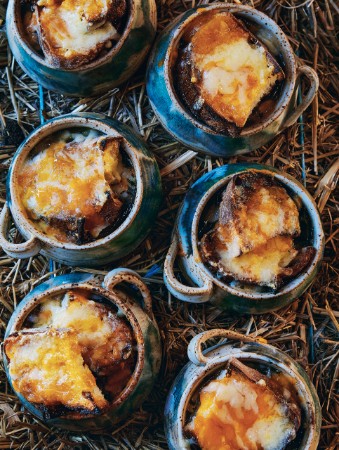 Mushroom & Cauliflower Soup Gratinée
Autumn 2015
BY: Christopher St. Onge
Layered with flavour, this cauliflower soup borrows a note from the classic French onion soup. Topped with toasted sour dough and plenty of cheese, it's a chill-chasing, satisfying start. Use a combination of your favourite mushrooms, but be sure to add the vermouth before the mushrooms start to turn golden as, once they do, they begin to toughen up.
3 heads garlic, roasted (see TIP)
2 tbsp (30 mL) olive oil
2 tbsp (30 mL) butter
1 large onion, cut in half and thinly sliced
1½ lbs (750 mL) mixed mushrooms, thinly sliced
Salt and freshly ground pepper
30 sage leaves
2 bay leaves
2 tbsp (30 mL) chopped thyme
1 cup (250 mL) dry white vermouth
10 cups (2.5 L) chicken stock
1 large head cauliflower, cut into bite-size florets
10 slices sourdough toast
2 cloves garlic, peeled
10 oz (300 g) each sharp cheddar and Comte cheeses, coarsely grated
1 Squeeze roasted garlic cloves from skins and set aside; discard skins.

2 Heat olive oil and butter in a large pot over medium heat. Once butter is foaming, add onion and cook until golden, 7 to 8 minutes. Stir in mushrooms, season generously with salt and pepper and cook, stirring often, for 8 to 10 minutes or until tender but not golden. Stir in sage, bay leaves, thyme and reserved roasted garlic cloves; pour vermouth over and cook until liquid is evaporated, about 3 minutes.

3 Pour stock into the same pot, bring to a boil and add cauliflower; cover and simmer for 10 to 12 minutes or until cauliflower is tender but still has some bite. Remove from heat until ready to serve (soup may be made 5 days ahead, refrigerated, and gently warmed through when ready to broil).

4 Divide soup between 10 heatproof bowls; rub sourdough toast with raw garlic cloves and if large, cut or tear toast to fit; top soup with toast. Divide cheese between toasts and place bowls on a large baking sheet or 2. Broil, in batches if necessary, for 2 to 3 minutes or until cheese is bubbly and golden.

TIP To make roasted garlic, trim tops of garlic heads to reveal cloves; drizzle cut surface with a small amount of olive oil and wrap each head individually in foil to enclose. Roast in a 375°F (190°C) oven for 35 to 40 minutes or until tender.
SHARE