Mulligatawny Soup
Printemps 2017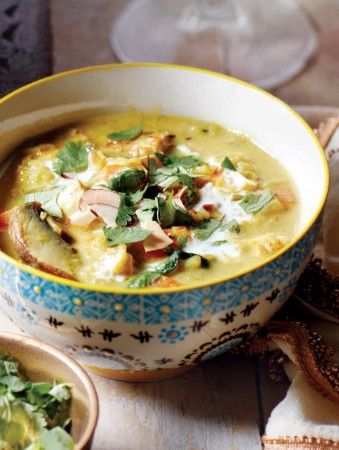 Mulligatawny Soup
Printemps 2017
BY: Marilyn Bentz-Crowley
The unusual name for this British soup is derived from Tamil words and there all culinary agreement ends! Our soup is satisfyingly thick with interesting bits, including crunch from toasted almonds.
1 tbsp (15 mL) butter
1 skinless, boneless chicken breast or 2 thighs
1 medium onion, diced
1 stalk celery, sliced
1 medium carrot, diced
3 cloves garlic, minced
1 to 2 tbsp (15 to 30 mL) curry powder
½ tsp (2 mL) each of ground cumin, coriander and ginger
4 to 5 cups (1 to 1.25 L) chicken broth
1 large firm apple
1 medium sweet potato
¼ cup (60 mL) white basmati rice (uncooked)
4 to 6 large mushrooms, sliced
1 cup (250 mL) unsweetened full-fat coconut milk (see TIP), plus extra for garnish
1 tbsp (15 mL) freshly squeezed lime or lemon juice
¼ tsp (1 mL) each of salt and freshly ground black pepper
3 cups (750 mL) lightly packed baby spinach
½ cup (125 mL) toasted slivered or sliced almonds
¼ cup (60 mL) chopped fresh coriander or parsley
1. Melt butter in a heavy frying pan over medium to medium-high heat. Pat chicken dry with a paper towel. Sauté chicken about 5 minutes a side or until just cooked and richly golden. Remove from pan.
2. Sauté onion, celery, carrot and garlic in same pan over medium heat for 5 minutes or until softened. Add spices to onion mixture; cook 2 minutes. Transfer to a large saucepan. Use some of the broth to deglaze the frying pan; add deglazing liquid to saucepan.
3. Peel, core and dice apple; peel and dice sweet potato. Add diced apple, potato, remaining broth and rice to saucepan. Bring to a boil; reduce heat and simmer, covered, for 15 to 20 minutes.
4. Cut or shred chicken into small bite-sized pieces. Add chicken and mushrooms to saucepan; return mixture to a simmer. Cook until rice is very tender, about 10 minutes. (If making ahead, cool, cover and refrigerate for up to 3 days.)

5. Stir coconut milk into soup. When hot, stir in lime or lemon juice, salt and pepper. Taste and add more seasoning, as needed.

6. Put a handful of spinach in the bottom of warmed soup bowls; ladle in hot soup. Serve garnished with a drizzle of additional coconut milk, sliced almonds and chopped coriander.
Makes 8 cups (2 L), about 6 servings

TIP Unsweetened coconut milk comes in two levels of fat content. For example, the label on one can may not say it is "light," but the Nutrition Facts label indicates that it is light in fat when the milk has only 42 calories per 65 mL. For this recipe, choose a can with nutrition information that reads more like 110 calories per 60 mL, as then there's plenty of flavourful fat.
SHARE