Mulled Wine Short Ribs
Holiday 2020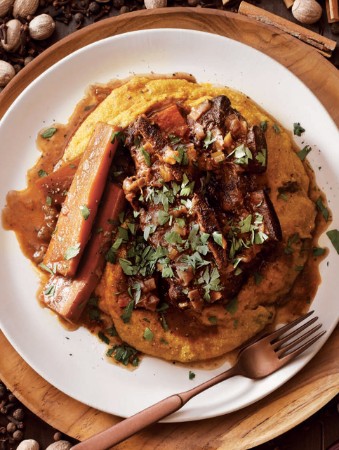 Mulled Wine Short Ribs
Holiday 2020
BY: Victoria Walsh
Mulled wine and slow-roasted beef are traditional at this time of year. It only makes sense to incorporate mulling spices into a classic wine-and-beef short-rib braise. Short ribs are not easy to prepare but they're not hard either. If you've made them, you know what I mean. If you haven't, you're about to discover the beauty of cooking short ribs. They take about half an hour or so of prep and a whole lot of oven time (it's really just babysitting at that point) and you've got yourself a glorious meal that's restaurant-level without a lot of special technique. Just patience—which is kind of a special technique in my book.
4 to 5 lbs (1.81 to 2.27 kg) beef short ribs, each about 2 x 4-inch (5 x 10-cm) pieces
1 tbsp (15 mL) kosher salt
2 tsp (10 mL) ground pepper
1 tbsp (15 mL) extra virgin olive oil
5 carrots
2 orange wedges
8 whole cloves
3 leeks, thinly sliced
2 celery stalks, finely chopped
2 tbsp (30 mL) tomato paste
2½ cups (625 mL) red wine
1½ cups (375 mL) homemade or store-bought beef broth
5 whole allspice berries
1 bay leaf
1 cinnamon stick
Freshly grated nutmeg
Salt and pepper, to taste
3/4 cup (175 mL) chopped flat-leaf parsley, for garnish
1. Preheat oven to 325°C (160°F). Pat short ribs dry with a paper towel. Sprinkle with 1 tbsp (15 mL) salt and 2 tsp (10 mL) pepper.

2. Heat oil in a very large, heavy-bottom oven-safe pot or Dutch oven set over medium-high heat. Working in 2 batches, brown the short ribs on all sides, 12 to 16 minutes per batch. As each piece is done, remove it to a large baking dish or sheet.

3. Meanwhile, cut carrots in half crosswise then lengthwise so you have 4 long pieces from each. Stud each orange wedge with a few cloves. When beef browning is done, pour off fat leaving about 3 tbsp (45 mL) in the pan.

4. Set over medium heat. Add leeks and celery. Sauté, stirring occasionally until softened, 8 minutes. Stir in tomato paste. Cook, stirring for 2 minutes, being careful not to burn. Stir in wine and broth. Add carrots. Bring liquid to a boil. Submerge short ribs in this mixture. Add studded orange wedges, allspice and bay leaf. Slowly roast in centre of preheated oven until very tender, about 2 1/2 to 3 hours. Add a cinnamon stick for the last half hour of braising. If serving the day of preparing, periodically use a spoon to skim off and discard fat from the broth as it braises the meat and fat continues to rise to the surface (see TIP). Remove oranges and cloves, allspice berries, bay leaf and cinnamon stick. Season to taste with freshly grated nutmeg, salt and pepper.

5. Ribs are delicious served over Umami Polenta (recipe follows) or with mashed potatoes—dealer's choice. Garnish with parsley.
TIP If making ahead, you can skip the skimming step. Simply refrigerate overnight and then remove and discard fat from the top before reheating. Short ribs will keep well, covered and refrigerated for up to 2 days.

UMAMI POLENTA

Parm, mushrooms and anchovies (optional) add rich umami flavour to classic polenta. 8 cups (2 L) water

3/4 tsp (4 mL) sea salt
1 pkg (14 g) dried porcini mushrooms
2 cups (500 mL) instant, quick-cooking polenta
2 anchovies, finely chopped (optional)
1/4 cup (60 mL) unsalted butter
2½ cups (625 mL) freshly grated
Parmigiano-Reggiano


1. Pour water and salt into a medium saucepan. Add dried mushrooms. Bring to a boil. Slowly stir in polenta. Reduce heat to medium-low. Continuously whisk. When the polenta mixture begins to thicken, for about 5 minutes, stir in anchovies. Continue whisking polenta until thickened, about 5 minutes. Stir in butter then Parmigiano until evenly mixed. Serve immediately.
SHARE