Salt Cod Mousse with Sorrel Salad
Winter 2006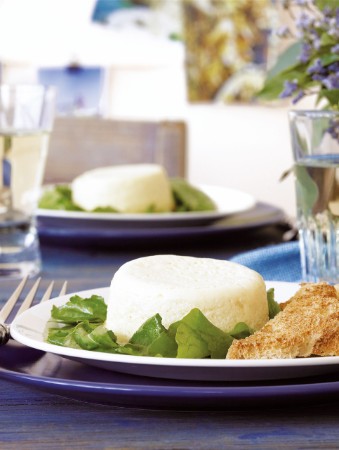 Salt Cod Mousse with Sorrel Salad
Winter 2006
BY: Lucy Waverman
Salt cod is a Portuguese staple as well as a fish both processed and used in the Maritimes. It is now available in some supermarkets and at most fishmongers. It comes dried and salted and must be reconstituted in water overnight. It makes a superb, elegant first course. If sorrel is unavailable then use spinach and a little extra lemon juice.
8 oz (250 g) boneless dried salt cod
2 cups (500 mL) milk
1 bay leaf
1 small onion, peeled and thinly sliced
2 cloves garlic, peeled and thinly sliced
Six drops hot pepper sauce
1 cup (250 mL) whipping cream
2 whole eggs
2 egg yolks
Freshly ground white pepper
Butter, to grease ramekins
2 cups (500 mL) sorrel
3 cups (750 mL) arugula
1 tbsp (15 mL) lemon juice
2 tbsp (25 mL) olive oil
Kosher salt and freshly ground pepper
Sliced brioche or good-quality challah, crusts removed, toasted
1. Cover salt cod with water and soak for 24 hours, changing water twice. This removes excess salt.

2. Drain cod and place in a large pot. Pour over cold milk, cover pot and simmer slowly for 30 minutes. Add bay leaf, onion and garlic and simmer for 15 minutes more.

3. Strain milk into a bowl and add hot pepper sauce and cream to milk.

4. Remove bay leaf and place cod, garlic and onion in food processor. Process until puréed, adding a little milk mixture if needed.

5. Preheat oven to 300ºF (150ºC).

6. Whisk together eggs and egg yolks until just incorporated. Gradually whisk in cream mixture. Season with white pepper. Whisk in salt cod mixture.

7. Butter six ½-cup (125-mL) ramekins or muffin cups. Divide mixture into 6 and fill each ramekin. Place ramekins into roasting pan and fill roasting pan with boiling water halfway up the sides of ramekins. Bake for 45 minutes or until custards are set with a slight wiggle in the centre.

8. While ramekins are cooking, combine sorrel and arugula. Mix together lemon juice and olive oil. Toss with sorrel and arugula and season with kosher salt and pepper.

9. Turn out each ramekin on a serving plate and surround with sorrel and arugula salad. Place several pieces of toasted brioche on each plate. Serve immediately.
SHARE