Slippery Slimy Mussels with Saffron Aïoli
Automne 2005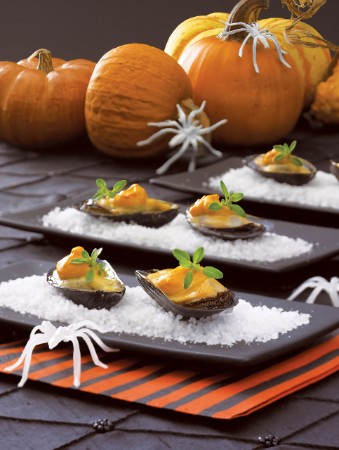 Slippery Slimy Mussels with Saffron Aïoli
Automne 2005
BY: Heather Trim
A traditional heavy-on-the-garlic mayo from Provençe is sure to ward off the vampires. Serve on a platter (with a bowl for the shells) ready to be slurped like oysters. Mayo can be made and refrigerated up to 2 days in advance and mussels can be cooked and chilled up to 4 hours in advance.
Aïoli
½ tsp (2 mL) saffron threads
1 tsp (5 mL) lemon juice
¼ cup (50 mL) mayonnaise
2 large cloves garlic, crushed
Pinch each cayenne and salt

24 mussels, about ¾ lb (375 g)
½ cup (125 mL) white wine
2 large finely chopped shallots or garlic cloves
2 sprigs fresh thyme or ½ tsp (2 mL) dried thyme leaves
1. Crumble saffron threads well into a small bowl. Stir in lemon juice until mixed. Let stand 5 minutes. Stir in mayonnaise, garlic, cayenne and salt.

2. Scrub mussels and discard any that are open. Place mussels, wine, shallots and thyme in a large saucepan. Cover and cook over high heat, stirring occasionally, until mussels open, about 5 minutes. Drain liquid and either discard or freeze for stock.

3. When mussels are cool enough to handle, remove top shell and discard. Serve mussels on a platter and dollop each with about ½ tsp (2 mL) aïoli.
SHARE