Wok-Steamed Mussels
Summer 2014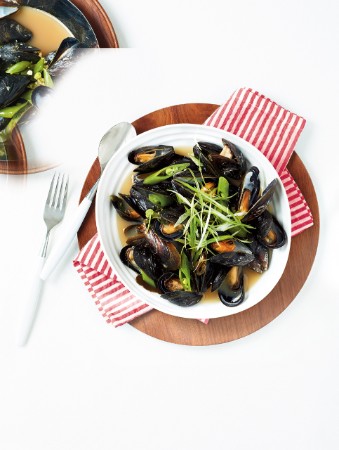 Wok-Steamed Mussels
Summer 2014
BY: Lucy Waverman
A sensational mussel dish that shows how we have adapted our plump native mussels to global flavours.
2 cups (500 mL) fish or chicken broth
1 tbsp (15 mL) finely chopped lemon-grass
1 tbsp (15 mL) fish sauce
2 tsp (10 mL) seeded, sliced jalapeñosor other hot peppers
1 tsp (5 mL) grated ginger
1 tsp (5 mL) granulated sugar
1 tsp (5 mL) chopped garlic
1 tsp (5 mL) hot Asian chili sauce
10 Thai basil leaves
4 makrut lime leaves or 1 tsp (5 mL) grated lime rind
3 lbs (1.5 kg) cleaned mussels
½ cup (125 mL) sugar-snap peas, cut in thirds on the bias
2 green onions, white and light green parts, chopped or slivered
1 Add broth, lemon-grass, fish sauce, jalapeños, ginger, sugar, garlic, chili sauce, basil and lime leaves to a wok over high heat. Bring to a boil and simmer for 8 to 10 minutes or until flavours have combined.

2 Add mussels and peas and cook for 2 to 3 minutes or until mussels open. Discard any unopened mussels. Place mussels in 4 serving dishes and pour over sauce.

3 Garnish with green onions.
SHARE