Moroccan-Spiced Lamb Lollipops with Pistachios and Garlicky Dip
Holiday 2009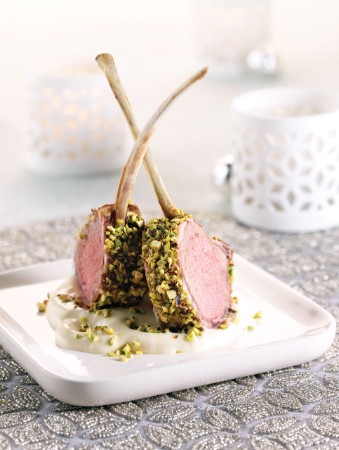 Moroccan-Spiced Lamb Lollipops with Pistachios and Garlicky Dip
Holiday 2009
BY: Marilyn Bentz-Crowley
This luscious lamb nibble must be served piping hot from the oven, but the remaining ingredients can be prepared ahead for last-minute assembly.
Dip
1 cup (250 mL) mayonnaise, preferably olive oil variety
4 tsp (20 mL) freshly squeezed
lemon juice
1 large garlic clove, minced
1 tsp (5 mL) Dijon mustard

Lamb
1 cup (250 mL) shelled pistachios (see TIP)
1 tsp (5 mL) cumin seed
1 tsp (5 mL) caraway seed
2 tbsp (25 mL) olive oil
¼ tsp (1 mL) cayenne
¼ tsp (1 mL) ground coriander
2 tbsp (25 mL) freshly squeezed lemon juice
3 frenched lamb racks,
each about 12 oz (375 g)
1. Stir mayonnaise with lemon juice, garlic and Dijon; cover and refrigerate for up to3 days. Very finely chop pistachios by pulsing in a food processor; cover and set aside.

2. In a hot dry frying pan over medium heat, minute lightly toast cumin and caraway seed a minute or 2. Coarsely grind with a mortar and pestle or whirl in mini-food processor. Stir with olive oil, cayenne, coriander and lemon juice.

3. Remove any silvery skin on lamb racks; lay lamb on a platter. Drizzle olive oil mixture over meaty parts only. Flip so the meatiest side is down. Let sit at room temperature for 30 minutes.

4. Preheat oven to 425°F (220°C).

5. To keep pristine, bare bones can be wrapped with foil, however you don't need to bother. Place racks on foil-lined baking sheet, meaty side up; drizzle with sauce from platter. Roast for 15 to 20 minutes for rare to medium-rare, or until the internal temperature is 135° to 145°F (57° to 63°C) on an instant-read thermometer.

6. Remove foil from lamb bones, if using. Roll meaty part of rack in pistachios; press with fingers to help nuts adhere. Cut between bones into chops. Place on a very-warm serving platter. Serve hot with garlicky dip.

Tip The pistachios need to be bright green, which means shelling large California pistachios as purchased; shelled pistachios are usually too darkly roasted. Nearly 3 cups (750 mL) of nuts in the shell are needed to yield 1 cup (250 mL) of shelled.
SHARE