Moroccan Spiced Chicken & Cauliflower Couscous Salad
Autumn 2017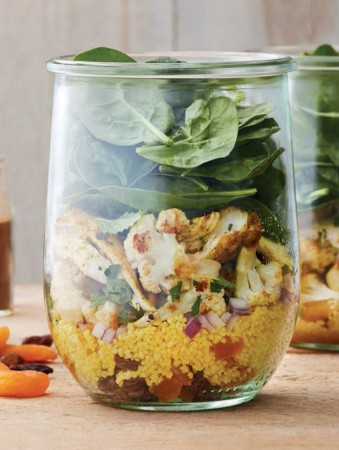 Moroccan Spiced Chicken & Cauliflower Couscous Salad
Autumn 2017
BY: Eshun Mott
The ultimate in a fresh and flavourful multilayered salad, this one takes advantage of couscous's "instant-cooking" nature to give you a warm and warming lunch.
1 medium head cauliflower cut into bite-sized florets, about 6 cups (1.5 L)
3 tbsp (45 mL) olive oil, divided
Salt and pepper
1 tbsp (15 mL) mayonnaise
½ tsp (2 mL) ground coriander
¼ tsp (1 mL) cumin
¼ tsp (1 mL) cinnamon
¾ tsp (4 mL) turmeric, divided
Pinch cardamom
1 lb (500 g) boneless skinless chicken breasts
4 wide-mouth 4 cup (1 L) heatproof jars
2 tsp (10 mL) grated fresh ginger
½ cup (125 mL) sultana raisins
½ cup (125 mL) chopped apricots
1 cup (250 mL) couscous
¼ cup (60 mL) finely chopped red onion
½ cup (125 mL) chopped flat-leaf parsley
¼ cup (60 mL) chopped mint
5 cups (1.25 L) baby spinach
¼ cup (60 mL) chopped roasted salted almonds
1 to 1⅓ cups (250 to 330 mL) boiling water, divided
1. Preheat oven to 425°F (220°C).

2 Toss cauliflower florets with 2 tbsp (30 mL) olive oil and season well with salt and pepper. Place on a rimmed baking sheet and roast in the bottom third of the oven for 10 minutes.

3. Combine mayonnaise, ground coriander, cumin, cinnamon, ¼ tsp (1 mL) turmeric and cardamom in a bowl. Add chicken and toss to fully coat. Season with salt and pepper.

4. Stir cauliflower and make a space on the baking sheet for the chicken. Add chicken and continue to roast for 20 minutes or until cauliflower is browned and tender and chicken is almost at 165°F (74°C)— chicken will continue to cook a little as it cools. Set aside until fully cooled and then shred chicken into bite-sized pieces.

5. In the bottom of each of the jars place ½ tsp (2 mL) grated ginger, ⅛ tsp (0.5 mL) turmeric, about ¾ tsp (4 mL) of remaining olive oil, 2 tbsp (30 mL) each raisins and apricots, ¼ cup (60 mL) couscous and a pinch salt. Add 1 tbsp (15 mL) red onion, one-quarter of the roast cauliflower and shredded chicken, 2 tbsp (30 mL) chopped parsley, 1 tbsp (15 mL) chopped mint and 1¼ cups (310 mL) baby spinach. Divide almonds into 4, and package separately to retain crunch if desired.

6. When ready to serve, pour ¼ to ⅓ cup (60 to 80 mL) boiling water into each jar along the side so it doesn't touch the spinach. There should be enough water to fully cover the couscous and onion. Cover and let stand for 10 minutes. Use a fork to fluff and combine couscous and flavourings.
SHARE