Moroccan Spiced Carrot Slaw
Winter 2017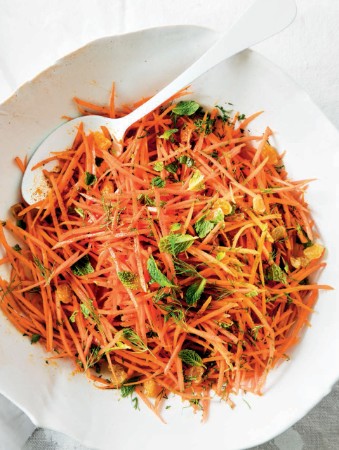 Moroccan Spiced Carrot Slaw
Winter 2017
BY: Eshun Mott
The bright flavour of carrots take well to this Moroccan mixture of spices, and the raisins add a welcome hit of sweet and textural contrast. This salad gets even better if it sits in the fridge for a few hours but, if you intend to make it ahead of time, add the fresh herbs just before serving.
1 tsp (5 mL) ground cumin
½ tsp (2 mL) paprika
¼ tsp (1 mL) cinnamon
¼ tsp (1 mL) cayenne
¼ cup (60 mL) olive oil
½ tsp (2 mL) grated garlic
2 lbs (1 kg) carrots, peeled and julienned or shredded
¼ cup (60 mL) fresh lemon juice
Salt to taste
½ cup (125 mL) golden raisins
2 tbsp (30 mL) chopped dill
2 tbsp (30 mL) chopped mint
1. Place cumin, paprika, cinnamon and cayenne in a small frying pan over medium heat. Toast for 1 to 2 minutes or until fragrant. Remove from heat, add olive oil and garlic and stir to combine.
2. Pour spiced oil over carrots, add lemon juice, toss until incorporated, and season with salt to taste.
3.  Add raisins, dill and mint and toss until just combined.
SHARE