Moroccan Lamb Kebabs
Early Summer 2017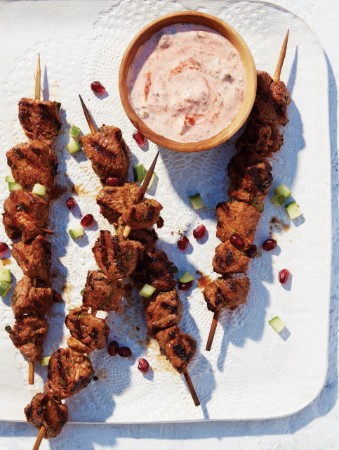 Moroccan Lamb Kebabs
Early Summer 2017
BY: Lucy Waverman
Serve with couscous mixed with chopped dried apricots and sautéed onions or Moroccan flat bread.
LAMB
3 tbsp (45 mL) olive oil
2 tbsp (30 mL) Harissa (recipe follows)
2 tbsp (30 mL) chopped fresh mint
2 tbsp (30 mL) chopped fresh cilantro
2 lbs (1 kg) boneless lamb leg cut into 1½ inch (4 cm) pieces

HARISSA SAUCE
1 cup (250 mL) diced cucumber
½ cup (125 mL) yogurt
¼ cup (60 mL) Harissa
¼ cup (60 mL) fresh mint
2 tsp (10 mL) lemon juice
Salt and freshly ground pepper to taste

GARNISH
1 tbsp (15 mL) diced cucumber
½ cup (125 mL) pomegranate seeds
1. Mix together the olive oil, Harissa, mint and cilantro. Toss with the lamb pieces. Leave to marinate for 30 minutes on the counter.

2. Combine cucumber with yogurt, Harissa, mint and lemon juice. Stir together and season with salt and pepper. Reserve.

3. Preheat grill to high. Thread lamb onto skewers. Grill about 2 minutes each side (8 to 10 minutes in total) or until medium-rare.

4. Transfer kebabs to a serving platter. Sprinkle diced cucumber and pomegranate seeds over lamb and sauce, and serve together.
HARISSA

My favourite chili for making harissa is ancho. You could also buy ancho chili powder and use 2 tbsp (30 mL) instead of the whole chilies. If you want it hotter, add cayenne to taste. There are lots of good bottled harissa sauces at the supermarket level and sambal oelek works as a substitute.

1 cup (250 mL) seeded, stemmed and quartered dried ancho chilies, about 4 chilies
2 cups (500 mL) hot water
4 medium garlic cloves
1 tbsp (15 mL) dried mint leaves
2 tsp (10 mL) ground coriander
2 tsp (10 mL) ground caraway
1½ tsp (7 mL) ground cumin
3 tbsp (45 mL) tomato paste
2 tbsp (30 mL) olive oil
Salt
1. Place chili quarters in bowl and pour hot water overtop to cover. Let sit for 30 minutes or until softened. Drain through a sieve, reserving about ½ cup (125 mL) of the chili soaking liquid.

2. Run food processor and add garlic cloves through the feeder tube with the machine running. Turn off machine. Add soaked chilies, mint, coriander, caraway and cumin. Process until pasty. Add tomato paste, olive oil, ¼ cup (60 mL) reserved chili soaking liquid and combine. Season with salt. If paste is too thick, add a little more chili soaking liquid to smooth it out.
Makes about ¾ cup (175 mL)
SHARE