Moroccan Grilled Scallops with Eggplant Confit
Spring 2007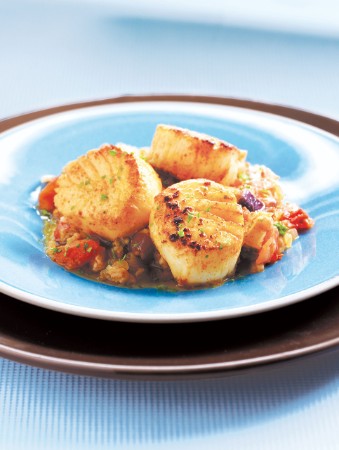 Moroccan Grilled Scallops with Eggplant Confit
Spring 2007
BY: Lucy Waverman
Although scallops are not Moroccan seafood they stand up beautifully to the spicing. Serve this as a sophisticated first course or as a main course with couscous. Sicilian eggplants are meatier than the regular kinds but use the regular if the others are not available.
1 medium Sicilian eggplant
¼ cup (50 mL) olive oil
Salt and freshly ground pepper
2 tsp (10 mL) ground ginger
2 tsp (10 mL) paprika
2 tsp (10 mL) ground cumin
¼ tsp (1 mL) cayenne
1 tsp (5 mL) grated lemon rind
1 cup (250 mL) chopped onions
1 tbsp (15 mL) chopped garlic
2 cups (500 mL) chopped tomatoes
1 tbsp (15 mL) lemon juice
2 tbsp (25 mL) chopped parsley
12 large scallops2 tbsp
25 mL) unsalted butter
1. Preheat oven to 450ºF (230ºC).

2. Cut strips of skin from eggplant to make a striped effect. Cut eggplant into ½-inch-thick (1-cm) slices. Brush with 2 tbsp (25 mL) oil, season with salt and pepper and place on a baking sheet. Bake for 20 minutes turning once or until browned. Remove from heat and cool. Cut into ½-inch (1-cm) dice.

3. Combine ginger, paprika, cumin, cayenne and lemon rind.

4. Heat remaining 2 tbsp (25 mL) oil in a large skillet over medium heat. Add onions and garlic and sauté for 2 minutes. Add half of spice mixture and cook another 30 seconds. Add eggplant and tomatoes, stir together, reduce heat and cook slowly for 25 minutes or until mixture is very thick and tasty. Stir in lemon juice and parsley and season with salt and pepper. Reheat when needed.

5. Sprinkle scallops with remaining spice mixture and season with salt and pepper.

6. Heat butter in a nonstick skillet over medium-high heat. Add scallops and sear about 1 to 2 minutes per side. Scallops should be opaque in the centre.

7. Spoon eggplant mixture onto 4 serving plates and top with scallops. Scatter parsley around plate.



Serves 4 as a main course, 6 as an appetizer
SHARE