Moroccan Carrot Soup with Harissa Relish and Yogurt
Autumn 2017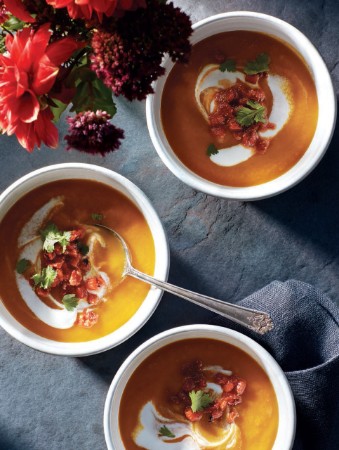 Moroccan Carrot Soup with Harissa Relish and Yogurt
Autumn 2017
BY: Eric Vellend
Silky-sweet carrot soup gets a flavour boost from a spicy pepper relish, tangy yogurt and cool cilantro. Jarred piquillo peppers are a Spanish delicacy that is increasingly easy to find—Loblaws carries them under its PC Black Label. You could also use the equivalent amount of roasted red peppers.
HARISSA RELISH
½ tsp (2 mL) cumin seeds
½ tsp (2 mL) caraway seeds
½ tsp (2 mL) chili flakes
½ cup (150 mL) chopped jarred piquillo peppers
¼ tsp (1 mL) finely grated garlic
1 tbsp (15 mL) extra virgin olive oil
Salt to taste

CARROT SOUP
2 tbsp (30 mL) extra virgin olive oil
2 onions, chopped
2 cloves garlic, thinly sliced
1 tsp (5 mL) ground cumin
½ tsp (2 mL) ground coriander
½ tsp (2 mL) ground ginger
⅛ tsp (0.5 mL) cinnamon
2½ lbs (1.25 kg) carrots, peeled, chopped
6 cups (1.5 L) vegetable stock, preferably homemade
1 tsp (5 mL) fresh lemon juice
Salt and freshly ground pepper to taste
Plain yogurt and cilantro leaves to garnish
1. For the harissa relish, place cumin and caraway seeds in small frying pan over medium heat. Toast, shaking pan occasionally, until lightly browned and fragrant, 2 to 3 minutes. Remove from heat and add chili flakes. Toast for 10 seconds. Transfer to plate to cool.

2. In a spice grinder or with a mortar and pestle, coarsely grind cooled spices. Add to bowl with piquillo peppers, garlic, olive oil and salt. Mix. Transfer to airtight container. (Relish will keep in fridge up to 1 week. Bring to room temperature before serving.)

3. For the soup, heat oil in a large pot over medium heat. Add onions. Cook, stirring occasionally, until soft and just starting to brown, 8 to 10 minutes. Add garlic. Cook 1 minute. Add spices. Cook 30 seconds. Add carrots and stock. Raise heat to high. When it comes to a boil, reduce to a simmer and cook until carrots are soft, about 20 minutes. Working in batches, purée soup in a blender until smooth. Transfer to a clean pot. Stir in lemon juice. Season with salt and pepper. Keep warm over a low heat.

4. To serve, ladle soup into warmed bowls. Garnish with a dollop of yogurt, some harissa relish and a few cilantro leaves.
SHARE