Mole Verde Turkey
Holiday 2017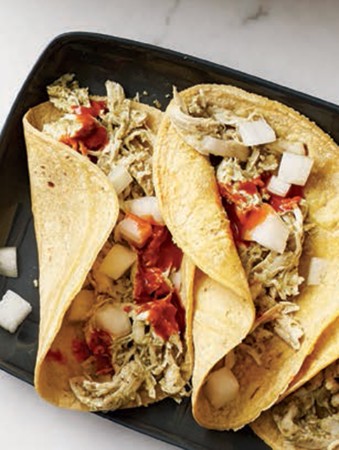 Mole Verde Turkey
Holiday 2017
BY: Eric Vellend
1. In a medium pot, combine 4 cups (1 L) shredded leftover turkey meat and 2 cups (500 mL) Mole Verde over medium heat. Simmer gently for 10 minutes to let the flavours blend. Season with salt and pepper. Serve as a taco filling with warm corn tortillas, diced sweet onion and hot sauce.

Serves 4 to 6
Mole Verde
Green mole will splatter during the initial cooking stage, so use a deep pot and consider buying a splatter screen—it comes in handy for tomato sauce, as well. Otherwise, hold a lid over the pot like a shield and protect your stovetop with baking sheets.

1 cup (250 mL) raw pumpkin seeds
¾ lb (375 g) tomatillos, husked, washed, quartered
1 small onion, chopped
3 cloves garlic, chopped
2 jalapeño peppers, seeded, chopped
2½ cups (625 mL) low-sodium chicken stock, divided
1 cup (250 mL) cilantro leaves, packed
3 outer romaine lettuce leaves (or 5 inner), chopped
1 tbsp (15 mL) vegetable oil
½ tsp (2 mL) ground cumin
Pinch ground cloves
Salt and freshly ground pepper to taste

1. In a medium frying pan over medium heat, toast pumpkin seeds, stirring often, until lightly browned and starting to pop, 5 to 6 minutes. Transfer to a plate to cool.

2. Place cooled pumpkin seeds in a blender and process until finely ground. Add tomatillos, onion, garlic, jalapeños and 1 cup (250 mL) chicken stock. Blend until smooth. Add cilantro and lettuce. Blend until smooth, stopping once or twice to push down greens.

3. In a large pot, combine oil, cumin, cloves and pumpkin seed mixture. Place over medium heat. When the mixture starts bubbling, cover pot with splatter screen or hold a lid over pot like a shield. Adjust heat to maintain gentle simmer. Cook, stirring often, until it's as thick as hot cereal, 12 to 15 minutes. Stir in remaining 1½ cups (375 mL) chicken stock. Simmer, stirring occasionally, 10 minutes. Remove from heat. Season with salt and pepper. Cool completely.

4. Divide between two 3-cup (750-mL) containers. Cover and label with date. Refrigerate up to 3 days or freeze up to 6 months.
SHARE